Hospitals, medical centers, and physicians' offices are not only places where patients should feel safe about getting the right medications, but it should be a place where they also feel safe with their sensitive information. Unfortunately, with the rise in the number of healthcare data breaches, the market is even riper for medical identity theft. Over 41 million patient records were breached in 2019 alone and the majority of them were associated with hacking or cyber attack-related incidents.
Preventing medical identity theft has been one of the top priorities, yet many organizations still rely on antiquated patient identity management solutions. Many leading hospitals, namely, Terrebonne General Medical Center and The University Healthcare System have been successful in preventing medical identity theft and benefitted in many other ways since using RightPatient. Other benefits include eliminating duplication of medical records, improving patient identity matching rates, clinical efficiency, and boosting the overall revenue cycle. But what about medical identity theft? How are patients affected by it? What are the ways for preventing medical identity theft? Let's find out.
What is Medical Identity Theft?
Medical identity theft occurs when a fraudster uses someone else's personally identifiable information (e.g. name, DOB, Social Security Number, health insurance number) to fraudulently receive medications or services, including attempts to falsify medical billings. The healthcare industry would have billions of dollars in surplus if all healthcare providers could prevent medical identity theft. This crime involves the fraudulent use of someone's health insurance information to obtain reimbursement for healthcare-related services provided to a person not covered by the policy. This is one of the most common reasons for the rise in the numbers of claim denials. It affects revenue integrity and requires organizations to put in more strenuous efforts and resources to identify and resolve the problem throughout the revenue cycle management.
How are patients affected by medical identity theft?
Patients may not be able to afford the cost: Financial consequences for the victims of medical identity theft can exceed the cost of credit card fraud. According to a study conducted by the Ponemon Institute, medical identity theft can cost an average American $13,500 to resolve.
Victims may not be aware of their information being stolen: In most cases, insurers or healthcare providers rarely inform the patients about the crime. In general, victims are completely unaware of when they became a victim and learn about the theft of their credentials about three months after the crime has occurred.
Reputations can be on the line: Found in many studies, victims said that their reputation was affected because of medical identity theft due to disclosure of personal sensitive health information. Many respondents believe they missed out on good career opportunities due to identity theft. Some said it resulted in the loss of their job.
5 Tips for Preventing Medical Identity Theft
Invest in modern patient identity management technology and software
With the transition of paper-based patient's records to electronic-based record-keeping systems, it is necessary to invest in modern technology and software for preventing medical identity theft. For better security and matching rates, many healthcare providers have adopted RightPatient – a leader in touchless biometric patient identity management solutions. With RightPatient, healthcare providers can verify patients' identities and protect access to medical records. RightPatient does not only help in preventing medical identity theft but it also drastically improves patient matching rates and eliminates the creation of duplicate records.
Just as facial recognition or iris scanning techniques are used in smartphone devices today, this platform uses similar biometric techniques in a healthcare setting for authenticating and verifying an individual's identity. RightPatient uses an individual's iris pattern or photos of their face to lock their medical records. Each time a patient arrives at the continuum of care, the platform will scan their iris pattern or photos of their face to authenticate their identity and retrieve their correct medical records. With secure-log-in monitoring, fraudsters will be instantly denied when they try to gain access to medical records by assuming someone's identity.
Automating the patient registration and enrollment process
Automating the patient registration and enrollment process can eliminate the hassle of a long, complicated registration process, save valuable time and resources, and reduce errors at the same time. Criminals can easily obtain or use someone else's common identifiers, such as names, SSNs, and DOB for fraudulent use. Many times common identifiers have also been the main cause of the creation of duplicate identities or record mismatching. Paper-based records are also vulnerable to how easily they can end up in the wrong hands. With RightPatient, transitioning to an automated patient enrollment system will be seamless.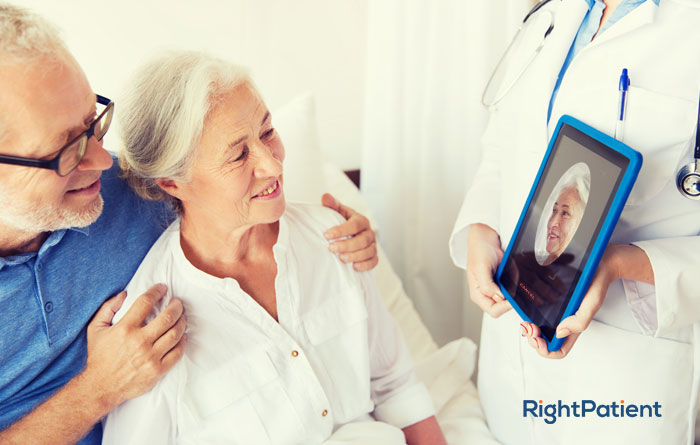 Streamline workflow and maintain compliance
Protected health information (PHI) is like a treasure box for cybercriminals and thieves. PHI contains valuable sensitive information and can easily be worth more than credit card numbers on the black market. This is why the Health Insurance Portability and Accountability Act (HIPAA) was established to ensure confidentiality, integrity, and availability of PHI. HIPAA requires healthcare organizations to implement appropriate safeguards to better protect patients' information so it doesn't end up in the wrong hands. Maintaining compliance with HIPAA can be quite strenuous, but organizations can use HIPAA compliance software to streamline their compliance efforts and reduce administrative burden. Adopting the best security practices to limit unauthorized access or disclosure of patient information is crucial for preventing medical identity theft.
Robust bring your own device (BYOD) and network access policy
Personal devices should be secured before accessing a patient's information across the network. A proper BYOD policy must be developed and maintained. For instance, is it safe for employees to bring company-issued devices back home? Many times, thieves get access to sensitive information when devices such as laptops, tablets, or smartphones get stolen from the office, home, or even from a car. Hospitals should also install a separate internet wi-fi network for visitors and patients to restrict access to the organization's internal network.
Educate your employees and patients and instill a culture of best privacy practice
Not all data breaches are malicious – human error is inevitable. From emailing sensitive data to the wrong person to accidentally posting on social media or leaving a laptop open, information can be disclosed in many ways. It is essential for healthcare providers to conduct proper training and educate their staff members, working in any capacity with medical information on how to handle and access PHI in an appropriate manner and identify suspicious behaviors for preventing medical identity theft. Training can be easily streamlined using applications.
Many hospitals always strive to do their best when it comes to securing patient information. The occurrence of medical identity theft is unfortunate but isn't rare at all. Hospitals should also advise patients and encourage them to keep their sensitive information safe and be cautious when sharing sensitive information.
Preventing Medical Identity Theft with RightPatient
Even during this COVID-19 national emergency crisis, medical identity theft is continuously becoming a great threat to the safety of patients and healthcare providers. Besides being the leader in patient identity management, RightPatient offers completely touchless biometric modules for patient identification. With RightPatient, healthcare providers can easily prevent medical identity theft and improve patient safety along with hygiene in a facility by removing physical contact, thus, limiting the spread of contagious diseases.
https://www.rightpatient.com/wp-content/uploads/2020/07/five-tips-for-preventing-medical-identity-theft-in-healthcare.jpg
445
800
Ryan Stephens
https://www.rightpatient.com/wp-content/uploads/2021/04/RightPatient-Logoup.png
Ryan Stephens
2020-07-22 14:43:04
2020-08-10 07:14:47
5 Tips for Preventing Medical Identity Theft in Healthcare