The US healthcare system has always been facing problems that stopped it from realizing its full potential. These issues are longstanding barriers to providing immaculate healthcare services to patients, and thus affect healthcare outcomes for all involved. One of these issues has been the "dirty" patient data accumulating within EHR systems over the years. With the COVID-19 pandemic causing even more issues like the unprecedented financial strain, layoffs, restructuring and so on, providers need to ensure that the patient information within their facilities is accurate, consistent and relevant. Let's look at what unclean patient data is, how it affects patients and providers and how RightPatient can ensure the cleanest patient data with accurate patient identification.
Patient data
A brief definition
In the simplest terms, patient data refers to a single patient's medical information – medications, medical history, vitals, illnesses and so on. Such data is critical in making informed decisions regarding the patient in question. What should be the current or future course of action and how to best handle the needs of the patient are some common examples.
From the explanation, it is clear why clean patient data is important for both caregivers and their recipients. Let's look at the other side of the coin: dirty data.
"Dirty" patient information
By now, it should be quite clear what dirty data means. Whenever the data is inaccurate, incomplete, inconsistent, obsolete or corrupt, it is considered "dirty". Unclean patient data can lead to a lot of problems for any given healthcare provider. It impacts everyday operations, makes effective data sharing difficult and impacts healthcare outcomes, among other issues. Let's have a more detailed look at the common ones.
Effects of unclean patient data
Inaccuracy and inefficient operations
Imagine if a patient goes to their healthcare provider for a checkup. The registrar types in the patient's name: several medical records pop up on the screen, all pertaining to the same patient. Understandably, this can confuse the registrar. They are faced with a difficult choice: either go through all the patient records and find out the accurate one or create a new one entirely. The former case will take up a lot of time, while the latter will just create another duplicate medical record within the system. Both of these are consequences of having unclean data within the system.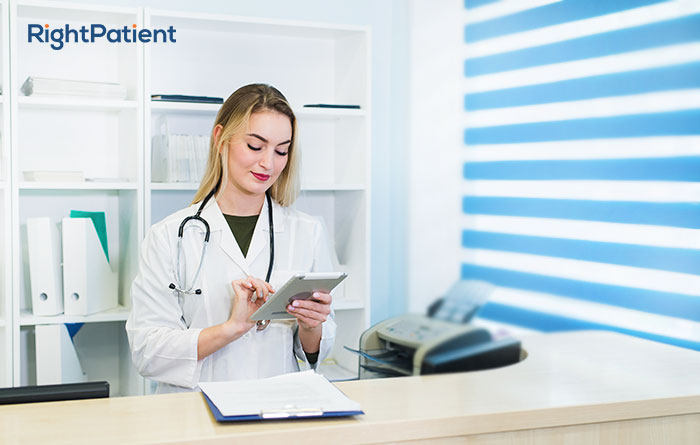 Huge losses
According to Gartner, unclean data can cost an organization anywhere from $9.7 to $14.2 million. For US healthcare providers, however, it's an entirely different figure. AHIMA stated that duplicate medical records can cost up to $40 million for any given provider, while a health system having several facilities can house up to 20% duplicate records.
Imagine if a patient is treated with another patient's medical information. When the record holder gets the bill for services they did not use, they'll simply contact their insurance provider regarding the matter. This will lead to a denied claim. Thus, inaccurate data can lead to denied claims as well – costing around $4.9 million on average for the average health system.
Patient safety is compromised
One of the biggest issues of unclean data is that it impacts patient safety. One patient will receive inaccurate and even dangerous treatment because they are being treated based on an entirely different patient's medical record. Even if it is the same patient, if there are multiple records under their name, each record will have inconsistent and incomplete information about the patient, leading to improper care, medications and procedures. All in all, healthcare outcomes will not be as expected as patient safety and quality of care is jeopardized severely. This can affect a provider's ratings as well. Patients will not be happy if they are not receiving unreliable healthcare services. Thus, clean data is critical to improving quality and safety in healthcare.
Non-compliance issues
This one is quite new. However, most healthcare providers know this and are working on it: e-notifications support.
The CMS rule mandates that all caregivers having EHR systems must ensure they support e-notifications by May 1st, 2021. During any ADT event, the provider needs to send e-notifications to the patient's caregivers, whether they be established primary care practitioners, post-acute providers & suppliers or any other entity primarily responsible for the patient's care. This is done to boost positive healthcare outcomes and improve care coordination. If the data is unclean, providers will end up sending false alerts either to the wrong provider or the wrong patient.
In any case, unclean data will cause non-compliance issues, penalties and might even jeopardize CMS provider agreements.
Lower ROI
Health systems and hospitals have been investing significantly in population health management, big data, analytics and similar projects they find promising. The efficacy of these systems depends on high-quality data being fed into them. When data is corrupted due to duplicate and overlay records, those investments are diluted, leading to lower ROI.
Keep patient data clean with RightPatient
One of the best ways to ensure that patient data integrity is maintained is by identifying the accurate patient record from the get-go. That's where we can help.
RightPatient is the leading patient identification platform that ensures data integrity is maintained within EHRs. It is a touchless, photo-based platform used by leading healthcare providers.
By making sure that you identify your patients accurately every time, you can avoid duplicate medical records, prevent medical identity theft, eliminate financial issues related to dirty data, improve patient safety and quality of care. Also, you can send out proper e-notifications to the accurate caregivers, eliminating any non-compliance penalties.
By ensuring accurate and consistent data that can be used by the aforementioned investments (population health management, big data, analytics, etc.), RightPatient improves ROI for healthcare providers, creating a win-win scenario for everyone.
Contact us now to know how RightPatient works and how we can help you ensure the cleanest data via positive patient identification.
https://www.rightpatient.com/wp-content/uploads/2020/09/Prevent-dirty-patient-data-with-RightPatient.jpg
445
700
Matt Gibson
https://www.rightpatient.com/wp-content/uploads/2021/04/RightPatient-Logoup.png
Matt Gibson
2020-09-09 17:33:32
2020-09-09 17:33:32
Dirty Patient Data Can Have Severe Consequences for Healthcare Providers