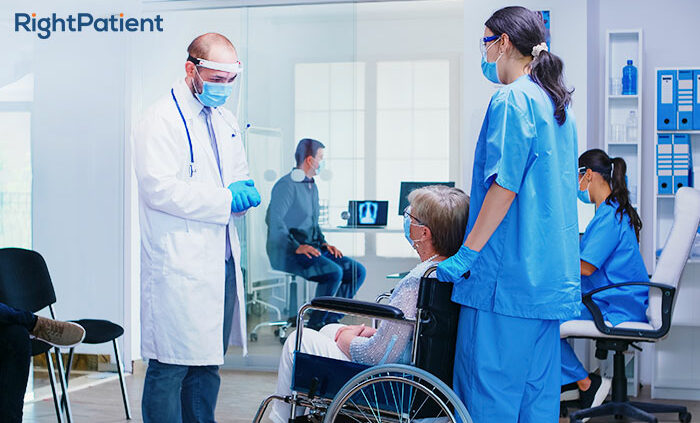 Another day, another new initiative by healthcare leaders regarding patient identification. One might wonder that given the pandemic and its ongoing effects on healthcare, why is that a top priority right now? Well, that's what the healthcare experts have been demanding as inaccurate patient data negatively impacts patient outcomes during this crisis. The U.S. healthcare system has been suffering due to the absence of a patient identifier for decades now – the ban is still in effect on a UPI. Let's look at what industry experts are saying and how positive patient identification can ensure patient safety and quality healthcare.
The importance of patient identification according to experts
This isn't the first time leaders have talked about the need for accurate patient identification and it won't be the last time. Healthcare providers have been struggling with patient identification for decades now, leading to compromised patient safety, inaccurate patient data, and unwanted healthcare outcomes. Add the pandemic to the equation, and identifying patients accurately becomes more important than ever as accurate data sharing is a topmost priority.
Recently, a session organized by the ONC (Office of the National Coordinator) for Health IT brought up the topic. According to Tom Leary, HIMSS VP of Government Relations, incorrect patient data leads to adverse impacts on public health response initiatives. He further elaborated on that – patient identification errors during the ongoing crisis led to several issues like improper data sharing, delays in sharing test results, and inaccuracies within longitudinal patient records. According to Mr. Leary, some nurses even tried to Google patients to identify them and contact them regarding their test results!
Preparing for COVID-19 vaccines, whenever they're created, will require accurate patient identification during large-scale immunizations to identify the infected ones, the ones who got the shots, and to identify the outcomes of the cases, stated Mr. Leary. Not having any proper patient identity verification system in place is just worsening the health outcomes and adding fuel to the ongoing fires during the pandemic. Thus, to ensure patient safety and quality healthcare, proper patient identification is an absolute must.
Patient safety and quality healthcare depend on identifying patients
As previously mentioned, many might think that with the pandemic still impacting healthcare significantly, patient misidentification is the last thing we need to worry about. However, Mr. Leary, as well as other healthcare industry experts, thinks otherwise. During the ONC session, they have already demonstrated how patient misidentification is affecting healthcare outcomes. But even before the pandemic, patient identification errors were notorious for adversely impacting patient safety and quality healthcare.
Let's go back to the time before the pandemic struck the U.S. Even then, the healthcare system had a plethora of issues, one of which was duplicate medical records and overlays. Imagine – a patient came to the hospital and they were assigned a duplicate record, based on which the whole treatment will be provided – so many things could go wrong!
An incomplete or inaccurate EHR leads to repeated lab tests, improper treatment, and even deaths due to a single misidentification. As a result, patient safety is severely impacted as well as healthcare outcomes. Patient misidentification cases are associated with unwanted incidents that can haunt caregivers – loss of goodwill and litigation costs are just some of the consequences.
Even before the pandemic, patient misidentification was a significant issue within the healthcare system. However, the COVID-19 crisis demonstrates how patient identification errors impact patient outcomes during a time when accurate patient information is of the essence.
Experts are urging for the UPI once again
It's been around two decades since the ban was imposed on a state-funded UPI (unique patient identifier), but industry experts are once again rallying to remove the ban this year. Even if the UPI is finally mandated, responsible healthcare providers will combine it with an effective patient identifier. Such a patient identification policy will encompass several benefits such as enhanced interoperability, reliable patient matching, and improved healthcare outcomes. So, out of all the different patient identification solutions out there, which one is the best match?
Patient safety and quality healthcare require RightPatient
RightPatient has been ensuring accurate patient identification for years now, but why is it the best solution? Well, it can be seamlessly integrated with EHRs to become part of the workflow, making it perfect to be used alongside the UPI, should the latter get approval. Moreover, RightPatient eliminates the biggest headache of providers currently – infection control issues, as it is a touchless solution. With its photo-based search engine for identifying patients during appointment scheduling and beyond, RightPatient is the most feasible choice for positive patient identification post-COVID-19.
https://www.rightpatient.com/wp-content/uploads/2020/09/RightPatient-ensures-patient-safety-and-quality-healthcare.jpg
445
700
Matt Gibson
https://www.rightpatient.com/wp-content/uploads/2021/04/RightPatient-Logoup.png
Matt Gibson
2020-09-23 04:34:56
2020-09-23 04:34:56
Patient Safety and Quality Healthcare Require Patient Identification During the Pandemic