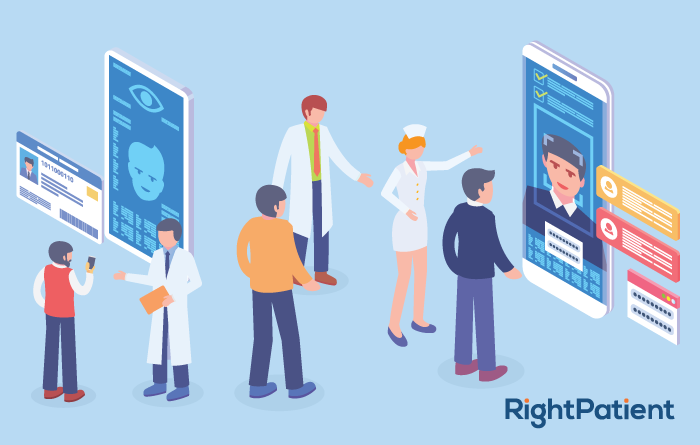 Even though the novel coronavirus and its effects are dominating headlines (as well as our social lives and safety), patient identification issues have not been far behind. Those who are up to date with the U.S. healthcare system know that the UPI (unique patient identifier) has been trending once again – healthcare leaders across the states are urging lawmakers to lift the ban this year as well. While the future is uncertain due to COVID-19, even if the ban is lifted and the UPI created, providers would need to couple it with a robust patient identification platform such as RightPatient. Let's take a look at why such a platform would be perfect for patient identification, with or without the UPI.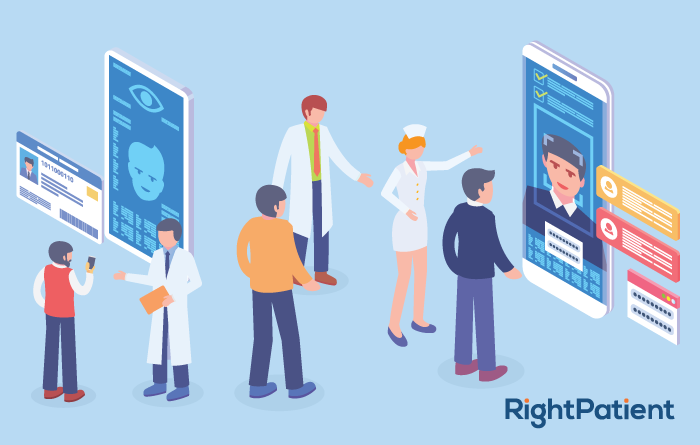 It eliminates risks associated with contact-based patient identification platforms
There are many patient identification platforms available – we've talked about them several times. However, the responsible healthcare providers always choose touchless platforms as they don't have the problems associated with touch-based patient identification systems – let's take a precise look at what those are.
Patients have to touch the devices while using most patient identification systems. Naturally, this would entail concerns regarding infection control – these are used within the premises of healthcare providers who serve the sick, after all. Thus, there's quite a high chance that one patient can unwittingly infect others when they verify their identity using such systems.
One unfeasible remedy to avoid infection control issues would be to clean the devices after every verification – imagine the administrative nightmare! Thus, even if these systems are accurate (fingerprint scanning, for instance), they are not at all suitable for such environments housing cases that may potentially lead to infection control issues.
Secondly, since these are contact-based, many, if not all the patients, would be reluctant to touch these devices. In the post-pandemic world, almost everyone is well-informed about how dangerous contact-based solutions can be. Thus, the COVID-19 crisis has rendered even accurate touch-based solutions ineffective as patient acceptance rates would be significantly lower now.
Thankfully, touchless patient identification eliminates all these issues – more on that later.
A robust patient identification platform helps avoid duplicate records and overlays
Since we've already established that touchless patient identification is the only feasible choice in a post-COVID-19 world, let's look at the other proven benefits of such a system, starting with duplicate medical records.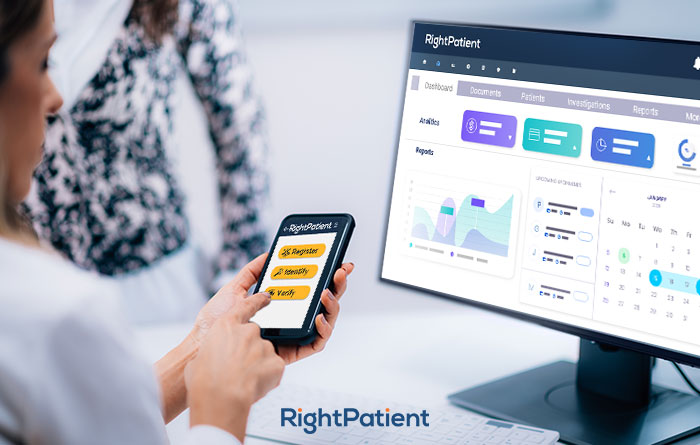 Whenever a healthcare provider uses an obsolete patient identification platform (the most common one being asking patients questions), they're bound to get confused when seeing the multiple medical records assigned to the single patient. They have to dig through them to find the accurate and most up to date one each time the patient arrives. In some cases, they might even create a new record just to avoid the hectic procedure – adding another duplicate record into the mix. These lead to delayed patient care, compromised patient safety, and impact healthcare outcomes.
Overlays are even more dangerous – these are the merging of medical records of the same or different patients. Imagine being treated with someone else's medical history – the treatment will be botched right from the start.
A robust patient identification system, however, can avoid such issues. By ensuring that the correct medical record is identified every time across the care continuum, duplicate records and overlays are avoided as well as the issues associated with them.
It prevents medical identity theft
One of the bigger healthcare concerns is data breaches that ultimately lead to medical identity theft. After buying the stolen patient information from hackers, the fraudsters use that to bypass obsolete patient identification systems and gain unauthorized access to medicine, treatment, and expensive medical devices. However, robust patient identification systems like RightPatient can prevent medical identity theft in real-time. When the fraudster has to verify their identity, the identification platform red flags them upon detecting that the fraudster's photo and the photo in the medical record saved by RightPatient don't match. Thus, patients and providers are protected from the consequences of medical identity theft, even if the data is breached, thanks to positive patient identification.
It ensures that you send out proper e-notifications
Healthcare providers will require software that supports e-notifications to patients' other caregivers beginning May 1st, 2021, as per the CMS. This system is designed to promote interoperability and ensure proper care coordination.
However, to send out e-notifications to the appropriate caregivers, the hospital needs to ensure that they are identifying the proper patient first. Otherwise, the hospital might end up sending alerts to the wrong caregiver or information about the wrong patient. This can easily be avoided if a proper patient identity verification system is in place.
RightPatient does all of the above – and more
RightPatient is the leading patient identification solution used by forward-thinking caregivers. Healthcare providers who are currently using RightPatient don't need to think about infection control issues now – they thought about it before COVID-19. It uses photos of patients to identify their records. Patients take a selfie and a photo of their driver's license after appointment scheduling. RightPatient checks the selfie and the driver's license to ensure a proper match. During hospital visits, patients enrolled under RightPatient only need to look at the camera – the platform finds the appropriate record within seconds. If fraudsters try to assume a user's identity, it red flags them, preventing medical identity theft in the process.
Contact us now to see how we are helping leading providers like TGMC, CHSLI, and Grady Health.
https://www.rightpatient.com/wp-content/uploads/2020/09/Top-Reasons-for-Using-a-Robust-Patient-Identification-Platform-like-RightPatient.png
445
700
Matt Gibson
https://www.rightpatient.com/wp-content/uploads/2021/04/RightPatient-Logoup.png
Matt Gibson
2020-09-29 07:32:06
2020-09-29 07:32:06
Top Reasons for Using a Robust Patient Identification Platform