Amidst the hoopla and chaos of this year's HIMSS conference in Orlando, we introduced a new feature for our cloud-based RightPatient biometric patient identification solution: the RightPatient Smart App. This is kind of a big deal for the healthcare industry because the RightPatient Smart App has the power to turn any smartphone or tablet into a powerful patient recognition device.
In other words, this is anything but a ho-hum development in the concerted effort to adopt more modern patient ID technology. Allow me to explain…
As we have written about before, increased recognition of the critical importance of accurate patient identification for patient safety has played an important role in our own research and development of the RightPatient cloud biometric patient identification solution. I don't think I'm alone in saying that most patients see patient identification as the part of our healthcare experience that starts with sitting in front of a registrar at a healthcare facility so they can obtain our insurance information and make sure we are who we claim to be.
However, anyone who has spent time as a patient in a healthcare environment knows that most medical facilities don't stop with establishing accurate identification at the point of registration. You may have your ID checked before medication disbursement, prior to the administration of a medical procedure, or perhaps just before surgery. This is important for patient safety, and to reduce the risk of adverse events from wrong patient procedures.
The problem is that many patient identification mistakes are still regularly made across the healthcare industry. This can cause irreparable harm to patients and providers in many cases. Fortunately, we provide the most innovative technology in the market to solve this problem.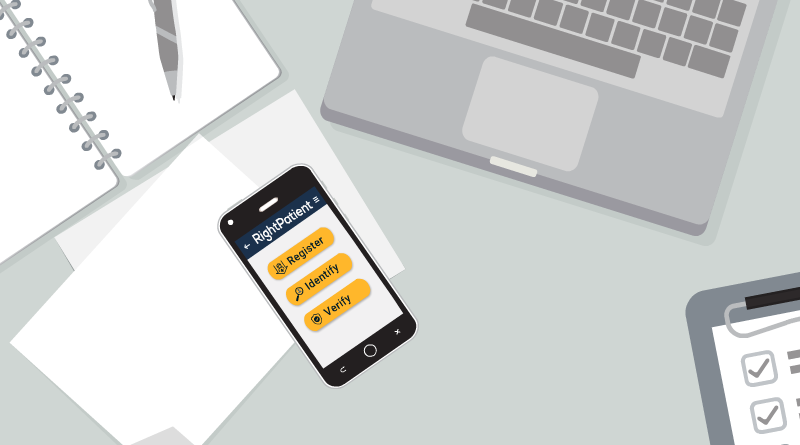 For example, the RightPatient Smart App is a modern, mobile patient identification solution that fills an important void to help healthcare organizations improve compliance and patient safety. Here is a breakdown of the Smart App features and their value to patient identification in healthcare:
Mobile patient ID ubiquity: As mentioned earlier, the RightPatient Smart App turns any smartphone or tablet into a powerful mobile patient identification tool. Is this a big deal? Absolutely. The Smart App improves the ability of clinicians and others responsible for care administration to be responsible stewards of patient safety and compliance. It can be used as a multi-factor authentication tool along with another form of identification or act as a standalone patient ID device. Recognize patients anywhere, anytime, with any smart device.
Patient photo: The Smart App matches against the patient photo that was captured by RightPatient during registration for positive identification. We have previously written about the importance of capturing high-quality patient photos and linking them to their electronic health records. RightPatient ensures that a standardized, high-quality enrollment photo is always captured. This increases the efficacy of the Smart App and ensures that providers have images that they can rely on for clinical context.
Identifying unconscious patients: There are few things in healthcare more risky than treating an unconscious patient without access to their medical history. The RightPatient Smart App allows clinicians to easily identify unconscious patients through their smartphone to retrieve the patient's medical record. The Smart App opens the door for accurate patient identification in traditional and non-traditional settings (e.g. – oncology, medical records release, EMTs, home health) – places where perhaps verifying a patient's identity is required but may not have traditionally been on the compliance radar. The Smart App fills in the patient ID compliance holes that exist in a healthcare organization – enabling higher levels of patient safety and helping to reduce medical errors and risk.
Medical errors caused by patient misidentification will continue to rise with increased data sharing and human error. In fact, the ECRI institute recently included patient identification errors in its most recent annual top-10 list of patient safety concerns. Powered by the RightPatient cloud platform, the Smart App will strengthen patient safety, reduce risk, and more effectively humanize the healthcare experience – a critical element of improving patient satisfaction and empathetic care delivery. Design and development of this new feature was a direct result of our 15 years of experience in biometric technology, listening to the needs of our customers, and delivering a practical solution that increases the power and reach of our industry-leading patient identification technology. You asked. We listened.
Have questions about the RightPatient Smart App? Drop us an email at info@rightpatient.com or visit here to request a free demo.
https://www.rightpatient.com/wp-content/uploads/2017/06/Demonstrating-RightPatient-smart-app.jpg
600
800
Michael Trader
https://www.rightpatient.com/wp-content/uploads/2021/04/RightPatient-Logoup.png
Michael Trader
2017-06-15 06:00:35
2020-08-10 09:07:50
Mobile Patient Identification with the RightPatient Smart App