This has been a devastating year all around for the entire world due to the COVID-19 pandemic and its effects. Even though there have been a lot of issues within the US healthcare system that surfaced during the pandemic, one of the more prominent problems healthcare providers faced (and are still facing) is patient identification errors. Experts have talked about and how patient misidentification is detrimental to both patient safety and quality healthcare. Thus, it isn't surprising that improving the accuracy of patient identification takes the top spot of 2021's patient safety goals as per the Joint Commission.
Let's take a look at the new goals set by the Joint Commission, why improving patient identification can help achieve the other goals, and how RightPatient can help healthcare providers.
Patient safety goals for next year
The Joint Commission outlines the top patient safety concerns that healthcare providers must address each year based on available information. Patient identification has been on the list almost constantly because errors can cause a lot of adverse effects for patient safety, healthcare outcomes, hospitals' finances, etc. – more on that later.
Let's take a look at the national patient safety goals for the upcoming year 2021:
Identify patients accurately.
Improve staff communication.
Safely use medicines.
Reduce patient harm by improving clinical alarm systems.
Reduce hospital-acquired infections.
Identify patient safety risks within the healthcare facility.
Prevent surgical mistakes.
While these are different issues, some of these patient safety goals can be met, or at least the unwanted incidents can be reduced, by ensuring accurate patient identification with RightPatient.
How patient identification ties in with other patient safety goals
While patient identification errors might seem trivial to some, there have been many complaints about the different problems which were consequences of misidentification – not finding the accurate medical record, delays in care, repeated tests, etc. As a result, many healthcare experts are clamoring for the mythical national patient identifier once again this year. However, national patient identifier or not, patient identification must be accurate to mitigate patient safety issues. Moreover, by ensuring accurate patient identification, other patient safety goals can be met – let's explore how.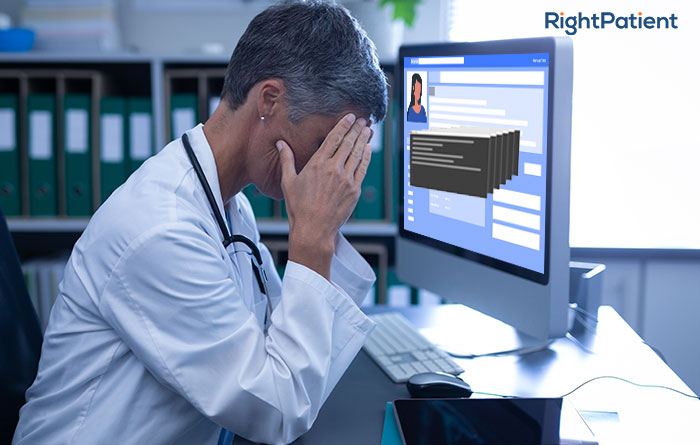 Improving staff communication
Communication is crucial for ensuring improved healthcare outcomes and reducing patient safety incidents across the care continuum. By ensuring that patient data is accurate and consistent, it will enhance outcomes, as most patient safety incidents occur when patient data is corrupted, fragmented, obsolete, or inconsistent.
When patients are accurately identified every time at any touchpoint across the hospital, it helps maintain patient data integrity, ensures that the correct information regarding the patient is used, leading to accurate test results being passed to the appropriate personnel at the right time.
Safely use medicines
Many patient safety incidents occur because of simply giving the wrong patients the wrong medicine, incorrect doses, and/or at the wrong time, leading to preventable medical errors. While clearly labeling and rechecking do help, many medical errors occur because of patient misidentification. For instance, if the patient is misidentified right from registration, rechecking the name or information won't help, as it belongs to someone else entirely.
If patients are accurately identified from the start, not only will patient misidentification be eliminated, but medical errors will be prevented too, enhancing patient safety and improving healthcare outcomes in the process.
Prevent surgical mistakes
This is somewhat related to the previous point, but medical record mix-ups do lead to the wrong surgeries being performed as well. If the patient is misidentified during registration, rechecking won't help, as it will lead to the wrong surgery being performed on the wrong patient.
Only by identifying patients accurately at the front-end can mistakes such as patient record mix-ups be prevented effectively.
Reduce hospital-acquired infections
Now, how can patient identification reduce hospital-acquired infections (HAIs)?
Well, as there is no standardized patient identifier present in the US healthcare system, many caregivers are using different solutions to fit their needs. However, many of these solutions can be ineffective and are touch-based, which is a major challenge, given the pandemic. These touch-based solutions can lead to infection control issues, as they require contact by multiple individuals. If an infected person uses it, the subsequent patients will be infected as well, leading to a disastrous situation.
However, many caregivers are using innovative solutions such as RightPatient – a touchless biometric patient identification platform. It uses the patients' photos to ensure that the patients are who they claim to be, preventing patient identification errors, mix-ups, duplicate medical records, and more. It can also be used across any touchpoint, starting from appointment scheduling.
How RightPatient works – improving patient safety
Patients need to provide a selfie and a photo of their driver's license – the platform automatically compares them for a match, remotely verifying their identities. During inpatient visits, the patients only need to look at the camera – the platform provides accurate medical records within seconds after comparing the live picture with the saved one.
RightPatient thus prevents HAIs as it is a contactless solution, enhancing patient safety, improving patient outcomes, and reducing preventable medical errors across the care continuum.
https://www.rightpatient.com/wp-content/uploads/2020/12/RightPatient-can-help-achieve-patient-safety-goals.jpg
445
800
Matt Gibson
https://www.rightpatient.com/wp-content/uploads/2021/04/RightPatient-Logoup.png
Matt Gibson
2020-12-15 05:11:47
2020-12-15 05:11:47
2021's Patient Safety Goals Show that Patient Identification Is the Topmost Concern