The US healthcare system has always been plagued by a number of issues. One very common but often overlooked issue is that of patient identification errors. Misidentification cases continue to be quite prevalent while there continues to be a ban on the creation of a state-funded Universal Patient Identifier (UPI). While debate continues around the risks and rewards involved with a UPI, one should also be asking about its efficacy. How many patient identifiers should be used to prevent patient safety issues? Will a UPI be enough to solve this colossal challenge?
UPI's history in a nutshell
Since the idea for a unique patient identifier was formed, it's seen constant criticism and opposition, resulting in a ban that's lasted for around two decades. Last year, healthcare organizations came pretty close to finally having the ban removed when the US House of Representatives voted to repeal the ban. However, the ban is still in effect with the legislation failing to gain approval in the Senate.
As for the future of the UPI, let's look at its past. It has not been funded for around two decades due to issues like privacy concerns and growing data breach incidents that could seriously jeopardize patient safety and privacy. Thus, chances are high that the future may not be kind to the creation of a state-funded UPI.
Lack of effective patient identification is felt throughout healthcare
The absence of reliable patient identification is widely felt throughout hospitals and health systems. Patient safety issues and patient data integrity failures are just some of the many issues associated with patient misidentification. However, a crisis like the COVID-19 pandemic clearly highlighted the importance of proper patient identification, impeding the ability of caregivers to provide healthcare services quickly and effectively without access to holistic patient information. Since the pandemic started, healthcare staff on the frontlines have been learning that the hard way.
Many experts are even thinking that this might be the time the UPI will finally be realized. But will it be enough? How many patient identifiers should be used to make sure it's safe for patients and effective for providers? Fortunately, our Co-Founder, Michael Trader, has a comprehensive answer.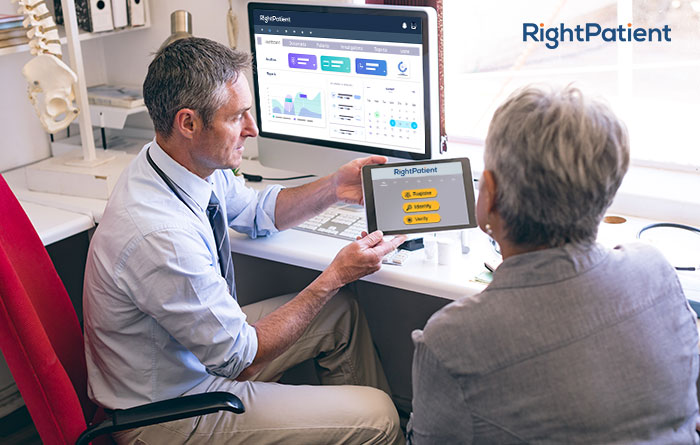 How many patient identifiers should be used?
Mr. Trader has stated that it's crucial to find balance regarding a UPI and it's equally important to establish an infrastructure that can house the UPI securely – only identifying patients accurately is not enough. Furthermore, the creation of duplicate medical records and overlays need to be prevented – they are some of the many issues that significantly hinder patient matching.
Mr. Trader adds that while the UPI will have benefits such as better interoperability as providers can share patient data more reliably, it will not mitigate issues such as duplicates, overlays, and medical identity theft. How many patient identifiers should be used, then?
Mr. Trader stated that instead of relying solely on the UPI, responsible providers will pair it with another identification system, and preferably one that is tried and tested. Linking the UPI to a photo-based biometric patient identification platform comes to mind. This touchless solution can be scaled across all encounter touch points, even enabling patients to utilize their own smartphones, making it the ideal solution in our post-pandemic world. With such a combination, patient misidentifications can be eliminated.
For years, patient misidentification has been a persistent problem for patients and caregivers alike. Providers need to eliminate misidentification as soon as possible, with or without the UPI. After all, it's a single mistake that can cause severe consequences for both providers and patients. Fortunately, RightPatient can help providers avoid such unwanted cases.
With its photo-based patient identification platform, RightPatient has been identifying patients accurately for years. Leading and responsible providers have chosen RightPatient instead of waiting for the UPI – they know the effects of patient identification errors better than anyone else. Thus, if the UPI is created, responsible leaders will be coupling it with the leading patient identification platform, ensuring interoperability, accurate patient identification, and reliable patient data exchanges.
https://www.rightpatient.com/wp-content/uploads/2020/09/How-Many-Patient-Identifiers-Should-be-Used-RightPatient.jpg
445
700
Matt Gibson
https://www.rightpatient.com/wp-content/uploads/2021/04/RightPatient-Logoup.png
Matt Gibson
2020-09-17 06:18:42
2020-09-17 06:19:08
How Many Patient Identifiers Should be Used to Ensure Patient Safety?