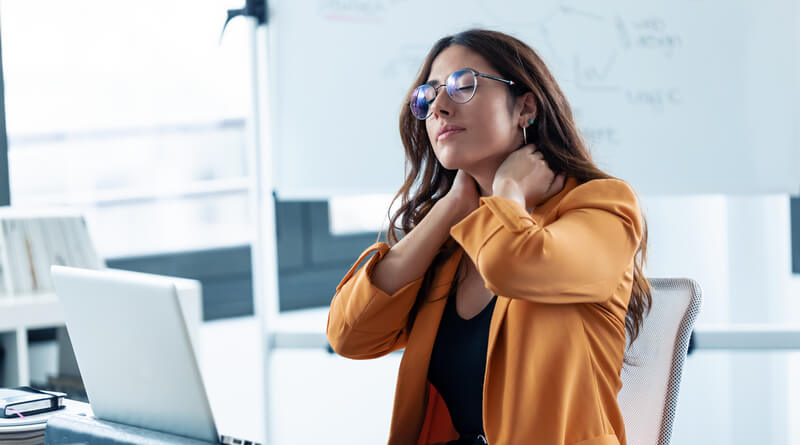 A typical desk job has never done your neck good. Many Australians often experience neck pain or stiff neck due to the sedentary position it requires. You probably feel the strain on your neck after a few hours of continuous work while sitting. Answering the phone by cradling it between your shoulder and ear while typing on the keyboards also provides discomfort somehow.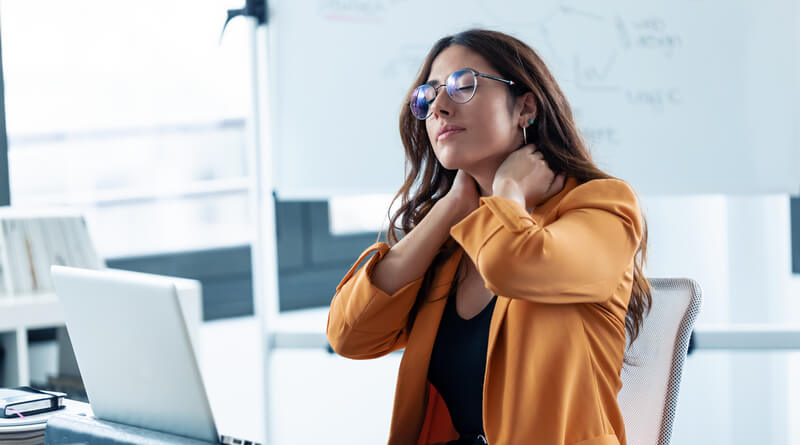 Your neck conditions might worsen gradually, as they become sore all the time if you fail to take the necessary steps for prevention. With as little effort as stretching, they can do wonders to make you feel more relaxed and your neck at ease. It's best not to wait until your neck develops burning pains.
Consider doing the steps below so you can reduce neck pain at work:
Maintain A Good Posture
Having a good posture while working in an office in Queensland and other areas goes a long way for you to keep your neck and spine healthy. The proper position to follow is to sit at your desk, ensuring that your feet touch the floor while your back is against the chair. Place your head in a neutral position, and don't slouch while working on your desk.
It's crucial that you don't round your lower back. One way to avoid slouching is to adjust your chair's height if you feel it's too high or low to your liking. This will also enable your thighs to slide down a bit more and position you more comfortably. By remaining in this position, you keep your weight evenly distributed over your lower hips.
Visit Your Physiotherapist
In many cases, physiotherapy is used to treat neck pain conditions that have gone from bad to worse. Although this might not be the case for most office workers, fortunately, it's still best to take a proactive approach to ensure your overall wellbeing. Visiting a Brisbane physiotherapist will be vital in spotting the signs of work-related and occupational diseases. This way, you can treat them earlier than having a more serious neck pain condition.
An in-depth understanding of working habits is common among professional physiotherapists. They know the nuts and bolts of office working postures, tendencies, symptoms, and possible pain points. In addition, they can identify the factors contributing to these work-related conditions.
Therefore, it's best to depend on them so they can prescribe strategies and early treatments for your increasing neck pain at work. With digital health being revolutionized, you can even consult through telehealth via protected communication channels managed by the concerned health professional.
Stretch And Do A Self-Massage
While sitting at a desk, range-of-motion stretches can be done quite easily. You can do so even while working. All you have to do is move your head forward, back, and sideways. These are an excellent way to stretch the muscles, tendons, and soft tissues. However, ensure that the stretches don't produce more pain and strain to your neck.
Another effective practice you can do is massage. Use your hand and fingers to massage the sore spots of your neck deliberately. You may use massage tools and liniments to make them feel calm and relaxed.
Position Your Computer Screen And Keyboard Properly
The focal point of the screen should be at nose height when you place the computer monitor in front of you. This should be the proper positioning of your working equipment so you can maintain a good posture. Angling your head downward when watching a monitor that is too low will cause you to put more stress on your neck. Hence, elevate it by using some computer accessories.
As for the keyboard, it's best that your elbows and hands can quickly type on them with comfort. The keyboard should be high enough that you won't have to slouch your shoulders down. Also, place the mouse beside the keyboard and ensure that it's accessible and comfortable to hold and navigate. It's crucial to invest in accessories that'll support your gadgets' positioning to have a good office and desk set up.
Go For Ergonomic Office Furniture
Sitting straight up at a 90-degree angle can sometimes make your body too stiff and sore. This isn't a comfortable position. It's best to recline your posture to 20 to 30 degrees more. Find an ergonomic chair that you can easily adjust to recline the backside as well as adjust the height.
Also, always keep your feet reaching the ground so you'll have the correct posture. Opt for a chair with a removable armrest just in case you want to let your shoulders and hands down sometimes.
Set An Alarm To Walk Around The Office
Ultimately, it's best to walk around your office to improve your blood circulation, muscles stretch, and bones come into use. By moving around, you can avoid having neck strain and pain. This is incredibly best if you can feel numbness or tightness developing along your body. The thighs, hips, back, spine, and neck usually are the spots that get tight with less movement.
Getting up and walking around is believed to be good for your body and your blood circulation, so it's best to do it often. Simply set a reminder alarm that'll go off at a schedule so you can avoid neck and body pain.
Conclusion
While neck pain isn't something between life and death, it's still essential to prevent and treat them early on before they become chronic and affect your daily life. With the pointers mentioned above, you can eliminate neck pain and continue working productively in the office. Your health should be prioritized, so visit a physiotherapist early on if you want to strategize more neck exercises, stretches, and improve your body posture.
https://www.rightpatient.com/wp-content/uploads/2021/09/Reduce-Neck-Pain-At-Work-In-6-Steps.jpg
445
800
Guest
https://www.rightpatient.com/wp-content/uploads/2021/04/RightPatient-Logoup.png
Guest
2021-09-23 04:16:29
2022-08-10 12:24:06
Reduce Neck Pain At Work In 6 Steps