Among the several issues faced by the US healthcare system, one of the more prominent is patient misidentification. We know this to be true because even during the coronavirus pandemic, experts have stated that patient matching issues were continuing. Moreover, coalitions were formed to demand the fabled "unique patient identifier" once again. But why do healthcare providers demand patient identifiers time and again? Let's take a look at some statistics that show how serious the issue is, some consequences caused by the absence of effective patient identification, and how patient safety and quality improvement are related to it.
Patient identification issues are nothing new
The last decade has been a transition towards technology for the US healthcare system. Caregivers such as physician practices, hospitals, and health systems have made the jump from traditional paper medical records towards the more standard electronic health records (EHRs). However, as they did so, they saw the issues that occurred due to the absence of an effective patient identifier nationwide. One of the biggest challenges is matching patients to their accurate medical record whenever they arrive for healthcare services. Let's review some recent statistics about how common misidentifications are.
Some stats to back it up
According to a study conducted by eHealth Initiative, approximately 38% of the respondents have suffered from an unwanted event caused by patient misidentification within the last 2 years. Many of these events are caused by duplicate medical records, and an overwhelming 66% of the respondents blame data entry errors that lead to duplicates. Moreover, 80% of the providers have dedicated FTEs (full-time employees) or third-party contractors to solve these issues. The biggest barriers to reducing poor patient matching were the lack of prioritization and the lack of technology. 32% of the caregivers stated that they had around 3-10% duplicates within their EHR systems. All of these statistics show that patient misidentification is growing and needs to be addressed by caregivers. Fortunately, many hospitals and health systems are already using touchless patient identification platforms like RightPatient to solve these issues, but more on that later. Let's see how patient misidentification is a barrier to patient safety and quality improvement.
Patient misidentification hampers patient safety and quality improvement
While patient misidentification causes a lot of problems for any given caregiver and patient, let's take a look at how it impacts patient safety, and in turn, healthcare quality.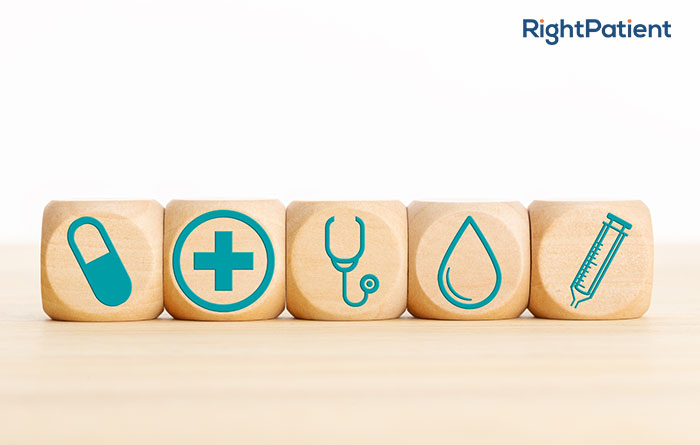 Patient misidentification is closely related to duplicate medical records
Duplicates can lead to patient misidentification and vice versa. For instance, if a patient comes in and provides their nickname instead of the name on the medical record, the registrar won't be able to accurately identify the medical record. Thus, after failing to find the record, a new one gets created, leading to another duplicate record within the EHR system.
Likewise, if there are many duplicates within the system against the same patient, there are high chances that all of them have incomplete and inconsistent information. This will lead to matching the patient to the improper medical record. Both of these scenarios will lead to incorrect procedures, adversely impacting patient safety.
Patient misidentification hampers patient data integrity
As previously stated, data entry errors are quite common during registration. Thus, if patients are associated with the wrong medical record, they will be treated based on someone else's medical history, illnesses, allergies, and so on. One single pill can severely impact the patient's health – one can imagine what would happen if the whole procedure was wrong! Such cases have led to delayed care, repeated lab tests, and compromised patient safety.
Patient misidentification leads to medical errors
Quite closely tied with the previous point, patient safety and quality improvement cannot be achieved if medical errors keep occurring. While medical errors happen for a variety of reasons, many are preventable, and as stated previously, 38% of the healthcare providers surveyed reported that they suffered from medical errors tied to patient misidentification. These errors could have easily been prevented had the caregivers used robust patient identity matching solutions.
Patient safety and quality improvement is achievable with RightPatient
Leading healthcare providers such as Catholic Health Services of Long Island, Terrebonne General Medical Center, Community Medical Centers, among others, have been using RightPatient and improving patient safety and quality of care. As the healthcare industry's leading touchless patient identification platform, RightPatient has years of experience helping hospitals and health systems identify patients' accurate medical records across the continuum of care. The platform uses patients' photos to identify their accurate medical records, prevent medical identity theft, avoid duplicate records, and prevent medical errors – enhancing patient safety and ensuring a hygienic environment that will be crucial in a post-pandemic world.
Contact us right away to learn how we can help you achieve your goals.
https://www.rightpatient.com/wp-content/uploads/2020/10/Patient-safety-and-quality-improvement-is-possible-with-RightPatient.jpg
445
700
Matt Gibson
https://www.rightpatient.com/wp-content/uploads/2021/04/RightPatient-Logoup.png
Matt Gibson
2020-10-21 11:29:52
2020-10-22 05:39:29
Patient Safety and Quality Improvement Can be Achieved with Positive Patient Identification