Patient safety is one of the key components that is crucial for preventing patient harm, ensuring proper healthcare outcomes, and reducing redundant costs for healthcare providers. Without it, adverse events lead to patients receiving the wrong care, and according to WHO, one in ten patients is harmed while receiving healthcare services. Fortunately, half of these adverse events are preventable – let's take a look at some patient safety improvement strategies that can help with that.
5 strategies for patient safety improvement
Nurture a patient safety-focused culture
One of the best patient safety improvement strategies is to foster a culture that focuses heavily on improving patient care. All employees, from the janitors to the decision-makers, must be a part of the culture and focus on patient safety and quality healthcare more than anything else. In fact, healthcare providers that aren't fostering such patient-centered cultures are struggling with adverse events, medication errors, and worse. For instance, physicians must focus on patients themselves rather than their medical records and involve them in the decision-making process. This way, they can get better insights into the patient's ailments to help them identify the problems in a more reliable manner.
Identify and work on mistakes
Rather than only acknowledging the mistakes that lead to patient safety incidents, working towards preventing future incidents is a much more sensible strategy. What's even better is identifying the issues before they happen and preventing them. For instance, there are different solutions available that can help identify potential issues and address them effectively. In the case of mistakes that already took place, identifying why they occurred and coming up with strategies that can prevent future occurrences is the tried and tested solution.
Reduce chances for human error
While technology is evolving rapidly, most healthcare providers, unfortunately, are still stuck with ancient processes and manual methods. This leaves room for human error, something that can jeopardize patient safety in hospitals significantly. For instance, if paper is used for recording medicine administration, handwriting or common names can lead to mix-ups, leading to an adverse impact on healthcare outcomes. On the other hand, if digital solutions are used, then not only will it speed up the process, but it will also make it more reliable and safe (especially if patient photos are used for identification). This is just a simple example, but reducing chances for human error ensures patient safety improvement across the care continuum.
Ensure a clean environment and enforce hygiene rules
While many might have forgotten that we're still going through a pandemic, hospitals and health systems must ensure that they are providing a safe environment for everyone involved. Not only must hospitals ensure that they keep their facilities clean, but they also need to ensure that everyone in the facilities is complying with safety rules such as wearing masks and maintaining distance. All of this leads towards reducing HAIs (hospital-acquired infections), improving patient safety in the process.
Ensure accurate patient identification
One of the topmost patient safety goals for many years has been improving the accuracy of patient identification, and according to the Joint Commission, it will once again be the number 1 goal for 2022. This just shows how important accurate patent identification is for patient safety improvement.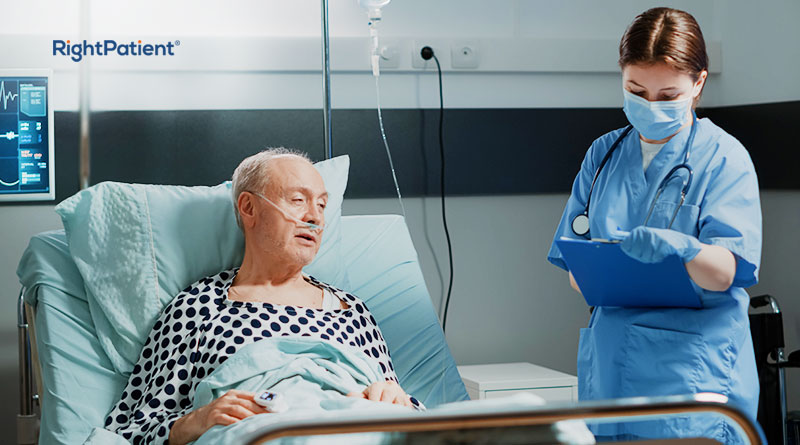 The problem is that patient misidentification leads to a number of issues – duplicate medical records, patient record mix-ups, wrong treatment, and even medical identity theft. All of these lead to adverse healthcare outcomes, hospital readmissions, and even deaths.
Fortunately, accurate patient identification IS possible – hospitals that have been using RightPatient are protecting millions of patient records and improving patient safety.
RightPatient is a touchless biometric patient identification platform that essentially locks medical records during the registration process with patient photos. Registered patients only need to look at the camera when they revisit hospitals – RightPatient compares the photos and provides the accurate medical records for use, preventing duplicates, overlays, and medical errors. Moreover, it also helps prevent HAIs as it's entirely touchless – improving patient safety on two fronts.
How are YOU improving patient safety at your hospital(s)?
https://www.rightpatient.com/wp-content/uploads/2021/11/Patient-Safety-Improvement-with-5-Strategies-RightPatient.jpg
445
800
Matt Gibson
https://www.rightpatient.com/wp-content/uploads/2021/04/RightPatient-Logoup.png
Matt Gibson
2021-11-11 08:47:20
2021-11-11 08:47:20
Patient Safety Improvement in Hospitals with 5 Strategies