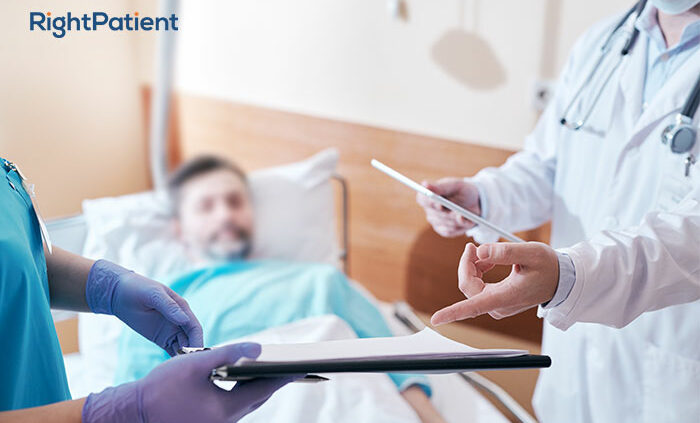 There are a lot of issues with the U.S. healthcare system, but a few of them can be traced back to medical record errors – duplicate medical records and overlays, to be precise. For instance, duplicate records and overlays lead to patient safety issues, reduced healthcare outcomes, patient misidentification, billing and coding errors, denied claims, and revenue cycle management issues. Even during the coronavirus pandemic, duplicates have been leading to poor patient identification – hampering the response rate and patient outcomes. Let's take a closer look at how and why duplicates are created, their effects on patients and caregivers, and how they can be prevented with RightPatient.
Duplicate medical records and overlays
With the technological advancements available today and being arguably the world's most advanced country, one might ask why are duplicate records a thing in the U.S. healthcare system? Well, there can be many explanations for this – errors made during registration, already existing duplicate records, the lack of a proper patient identification system, pressure at the frontend, and so on.
Duplicate medical records and overlays occur especially within the premises of busy healthcare providers – when under a tremendous amount of pressure, registration employees are more likely to make mistakes. While hiring more staff to reduce the pressure might work, without an effective patient identification platform, these errors will inevitably continue to be created. Before diving into how they are created, let's distinguish between duplicate records and overlays.
Duplicate records
It's self-explanatory from the name itself. Duplicate records refer to more than one medical record assigned to a single patient – this itself implies the complications such records bring. For instance, it means that there will be redundant records within the EHR system, leading to patient data integrity issues. Moreover, each duplicate record will have different, incomplete, obsolete, or inconsistent information – leading to data corruption. Caregivers have to make important decisions based on the information within medical records (lab test results, vitals, medications, allergies), and when they are using wrong or fragmented information, quality of care takes a hit. Overall, patient safety is compromised – more on that later.
Overlays
Overlays are in a league of their own. The main difference between overlays and duplicates is that overlays are created when one patient's medical record or its information is entered into an entirely different patient's record – merging the information together. While they only occur rarely, they can be expensive and extremely dangerous for both patients and caregivers according to HIM Briefings as well as our own experience. Not only do overlays corrupt patient data, but they also lead to patient safety issues, repeated lab test results, wrong treatment, and so on.
Now that we've seen what duplicate records and overlays are, let's see how they get created.
How are duplicate medical records and overlays created?
These medical record errors are usually made during the patients' and caregivers' first point of contact – registration. These are typically busy areas for any given hospital – naturally, the employees have a short amount of time and a huge amount of work. Add to that the lack of an effective patient identifier, patients sharing the same information (names, DOBs, etc.), and a sea of medical records, and you have an environment that is likely to result in duplicate records and overlays.
Most of these issues occur because the registrars have no concrete way to identify patients accurately. Moreover, common names, nicknames, name changes, entering incorrect data, and misspelling patient names are some factors that will hinder the attempts to find accurate records. For instance, there might be quite a few "Will Smiths" in the EHR system. Also, "William Smith" might have his record saved under "Will Smith", but he mentions himself as the former in front of the registrar. Moreover, many patients have their names changed after marriages or separations. All in all, there are a lot of factors in play here.
The impact of medical record errors
There are many consequences of having duplicate records and overlays in EHR systems for both patients and caregivers.
AHIMA has stated that 20% of the medical records in healthcare systems with multiple facilities are duplicates, and they can cost up to $40 million for any healthcare provider. Moreover, these lead to wrong treatment, undesirable patient outcomes, and thus, lower ratings and loss of goodwill for hospitals. Other consequences faced by hospitals are denied claims and poor revenue cycle optimization, hitting their bottom lines, and reducing their already razor-thin margins.
Patient safety takes a huge hit – when a patient gets treated with a fragmented or an entirely different medical record, there are so many things that could go wrong! Wrong medications, delays in treatment, repeated lab tests, and even death are the consequences for patients. All of these issues are avoidable if the caregivers use an effective patient identifier to prevent duplicate medical records and overlays. This is where RightPatient comes in.
RightPatient prevents duplicate medical records and more
For years, RightPatient, with its touchless biometric patient identification platform, has been preventing medical record errors such as duplicates and overlays. Not only that, but it also ensures accurate patient identification using the one factor that doesn't change and cannot be stolen or transferred – the patients' faces.
After scheduling an appointment successfully, patients are sent an SMS or email and are asked to provide their selfies and a photo of their driver's license. The platform matches the photos and ensures that the patients are accurately identified right from the start. Whenever patients visit the hospital, those enrolled under RightPatient only need to look at the camera – the platform identifies them with the saved photo, retrieving the appropriate medical records, preventing duplicates in the process.
Prevent duplicates and enhance patient safety now with RightPatient.
https://www.rightpatient.com/wp-content/uploads/2020/10/Prevent-duplicate-medical-records-and-medical-errors-with-RightPatient.jpg
445
700
Matt Gibson
https://www.rightpatient.com/wp-content/uploads/2021/04/RightPatient-Logoup.png
Matt Gibson
2020-10-08 07:20:04
2020-10-08 07:20:04
A Closer Look at Duplicate Medical Records and How They Can Be Prevented