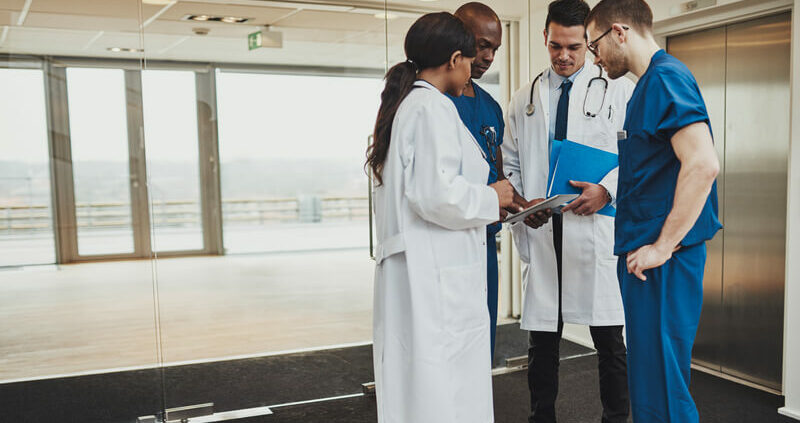 Nurses play a critical role in patient care and outcomes. While physicians make diagnoses and provide treatment, nurses are responsible for a wide range of essential tasks, including monitoring patients' conditions, dispensing medication, and assisting with personal care tasks. Nursing leaders have the additional responsibility of overseeing other nurses to help ensure quality patient care.
Although nursing leaders may have less direct contact with patients on a daily basis, their role is incredibly important for creating high levels of safety and satisfaction among patients. Many of a nursing leader's duties affect the way the nursing staff as a whole provides care. Here's how a nursing leader can affect these important factors.
Staffing Decisions
Nursing leaders are typically in charge of hiring and firing new nursing staff. Making staffing decisions is a difficult balancing act for nurse leaders. They have a budget they must stick to, but they also have to hire enough staff to meet the needs of the organization.
Making good hiring decisions can also be challenging when it comes to finding the right people for the job. There may be many applicants, but if only a handful are qualified or experienced enough, there might be a shortfall. Inexperienced nurses will need to be paired with more experienced professionals while they gain knowledge and confidence on the job, while others may simply lack the dedication and skills needed to be successful.
However, staffing shortfalls can lead to issues with patient safety and affect the patient's overall experience. An experienced nursing leader must balance all of these factors when making hiring and firing decisions to ensure a high level of care.
Training Protocols
Adequate staffing alone isn't enough to ensure that patients are well-cared for. A nursing leader should emphasize ongoing training for their nursing staff so that they continue to build new skills and reinforce their current training.
Professional development is important as the field of medicine evolves. Nursing leaders who look ahead to the future can improve patient care and safety by ensuring that nurses receive ongoing training.
In addition to creating a more skilled workforce, ongoing training and development can help nurses feel more invested and engaged in their work. This is essential for preventing burnout and offers a win-win for both nurses and patients.
Clear Standards of Care
An effective nursing leader must insist that their staff maintain high standards for safety and patient care. While every RN should know and follow the basic ethical and care standards of the profession, every organization sets its own tone and standards as well.
In order to maintain these standards, a nursing leader must highlight and emphasize them, enforcing compliance when needed. By making standards of care clear and concise, with no gray areas for interpretation, the nursing staff will all be expected to follow and maintain the same protocols, resulting in more consistent patient care.
Emphasizing Communication & Preventing Errors
Nurses spend a lot of time communicating with patients and their families. Many errors that occur are the result of poor communication, even when there is no language barrier affecting understanding.
A nurse leader should emphasize the importance of clear communication, even in difficult situations. Preventing errors is a top priority within the field of nursing, as they can be a matter of life and death. In fact, around 2.6 million people die every year due to safety issues in hospitals.
Since some errors can be prevented simply by asking questions and having conversations, nursing leaders must be mindful of how proper communication affects patient outcomes. Just a few clarifying questions can sometimes make a critical difference.
Morale Impact
There are a lot of people in leadership positions across industries who shouldn't be holding these roles. Unfortunately, poor leadership is not only common, but it also has a massive impact on employee morale.
Leaders can fail their teams in a variety of ways, but it's not all bad news. Effective nursing leaders can inspire their teams and boost morale by providing a safe, comfortable, and welcoming environment.
People do their best work when they're happy. A good nursing leader knows how to maintain harmony within a team, push people when appropriate, and give them support when necessary. In this kind of environment, everyone knows where they stand and can honor their responsibilities with confidence.
Cultural Competence
Nursing isn't just about healing physical illness and wounds. The profession involves connecting with patients and giving them a safe space to recover. As diversity grows in the United States, however, many patients find that they do not get the sensitivity and communication they need to feel safe in the hospital.
Cultural competence is critical in nursing to ensure that patients are given dignity and respect. Trust is an important component in helping patients to recover and preventing errors, so every nursing leader should help to facilitate this trust by teaching their nursing staff how to provide culturally competent care.
Nursing Leaders Set the Example
A nurse leader doesn't have to be doing all of the day-to-day work to make a positive impact on patient care and safety. Instead, nursing leaders set the standards and example for the entire nursing staff. A nursing leader who takes steps to ensure that all nurses are providing top-notch care will see a strong, positive impact on their department's safety record, patient satisfaction, and overall happiness among both patients and nurses.
https://www.rightpatient.com/wp-content/uploads/2022/05/Nursing-Leaders-Role-in-Patient-Safety-Satisfaction.jpg
445
800
Guest
https://www.rightpatient.com/wp-content/uploads/2021/04/RightPatient-Logoup.png
Guest
2022-05-12 06:26:12
2022-08-10 12:38:59
Nursing Leader's Role in Patient Safety & Satisfaction