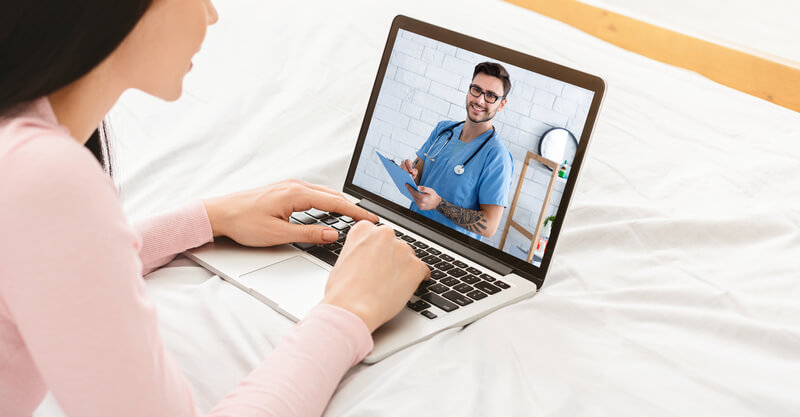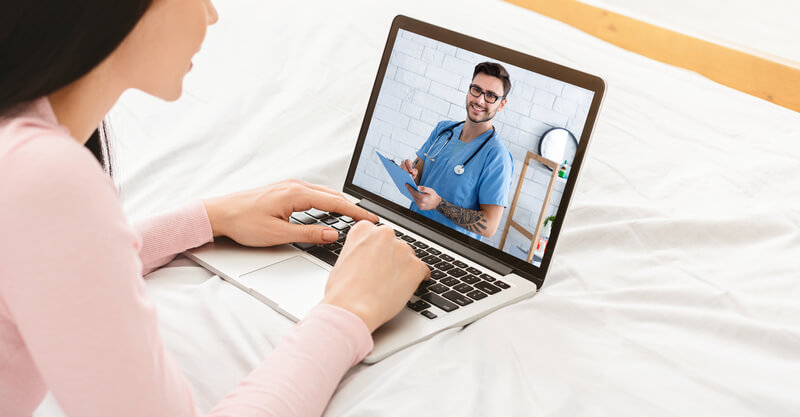 Technology advancement has revolutionized the healthcare industry. Latest technologies are innovated to diagnose and treat lethal diseases. People have also become health conscious and they try to use the latest technologies to know about their health conditions. As the pandemic has hit the world badly, it has changed the landscape of the healthcare market. People used to visit doctors before, but now they prefer to take a doctor's assistance online while maintaining social distancing.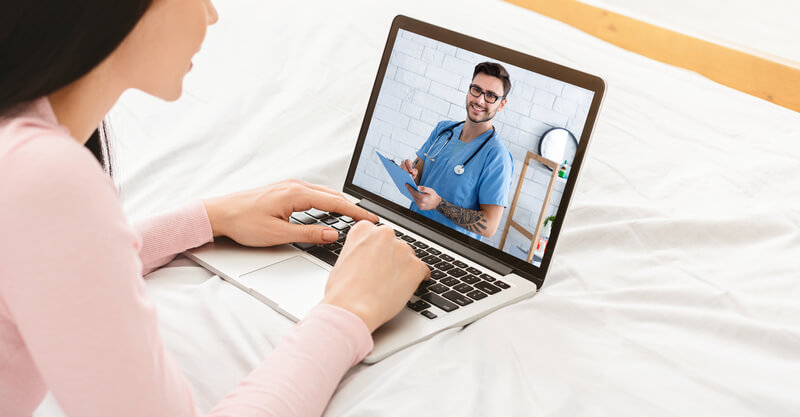 Along with telehealth, many other tech trends are revolutionizing the healthcare industry. Let's take a look at the top healthcare technology trends in 2021.
TeleMedicine
COVID-19 has given a great boost to telehealth resources. According to the statistics of April 2020, 43.5% of people followed telehealth methods rather than in-person visits. In the pandemic, people are asked to avoid social contact so telehealth methods help to take medical assistance while staying at home. It is expected that telehealth methods will continue to proceed even after the pandemic is over. Statistics show that 50% of people had already used virtual appointments and 71% of patients in the US used telemedicine at the start of the pandemic.
The best part of Telemedicine is that people are comfortable with this service and they are adopting it without any hesitation. Thus, the future of Telemedicine is very strong.
One of the important devices used in healthcare is fitness trackers. Through fitness trackers, they also check the overall wellness of the people. The pandemic has given a great boost to telehealth service and it is expected to reach $185.6 billion by 2026.
The advanced telehealth service is telemedicine apps. One of the famous apps is WebRTC, it uses the API system to connect web-browsers with mobile applications. This app is famous among patients because of its versatility. It provides features like video chat, screen sharing, text, and file transfer. Electronic health records EHR are integrated into your telemedicine app. It helps healthcare providers and patients to watch their medical records in this app.
Interactive Voice Response is used to interact with the patients through digital speech. Apple Health Kit and google fit can be integrated with the app so that people can check the health information on their smartphone. While developing this app, it is essential to consider what features they should have. The features that should be looked upon are appointment management, location services, security, secure messaging, audio-video communication, visitors' history, healthcare provider reviews, and virtual testing through wearable integration. The accessibility and security of this app make it a great need for healthcare technology.
However, experts are worried that hackers will turn their attention to telehealth sessions and steal patient information. Healthcare providers need to ensure that patient information is protected even during remote sessions.
Fortunately, RightPatient can help with that. It is a touchless biometric patient identification platform that attaches patients' photos and their biometric data to the EHRs during registration. RightPatient is also versatile enough to be used at any touchpoint – even during telehealth sessions, protecting patient data and preventing medical identity theft.
Internet of Medical Things (IoMT)
Many mobile apps and various devices are used to track and prevent chronic illness in patients. The development of IoT with telehealth and telemedicine technologies has resulted in the emergence of the new internet of medical things (IoMT). This includes the use of wearables like EKG and ECG monitors. They help in detecting blood pressure readings, glucose levels, and skin temperature.
It is expected by 2025, the IoT industry will be worth $6.2 trillion. In this time of the pandemic, IoT technology is widely used and 30% of the market share for IoT devices is derived from healthcare. The first delivery method in IoT took place in 2017 by the FDA when they approved the smart pill. IoMT is also giving effective options to their patients. Providing different options with different devices is full of challenges.
Manufacturers are using proprietary protocols while communicating with devices. This can create a problem when you have to collect large data from the servers. Connectivity issues can also prevail in smartphones and microcontrollers because of many environmental factors. The Buffering problem needs to be addressed to maintain a better connection. Security concerns also need to be taken care of. The report from the Ponemon Institute's sixth annual benchmark study on the security and privacy of healthcare data says that 89% of healthcare operations are the result of the data breach.
Use of Artificial Intelligence in COVID-19
Artificial Intelligence is playing a pivotal role in this period of the pandemic. It helps in pandemic detection, analyzing CT scans, facial recognition with masks, vaccine development treatment, and vaccine development.
a) Pandemic Detection
BlueDot, an application developed in Canada, is the first to detect COVID-19. Bluedot's system is scanning over 100,000 media sources from around the globe in more than 65 different languages. It helps to identify real dangerous breakthroughs of a pandemic. To know the intensity of the pandemic, the following factors are analyzed:
Examining the regional and global climate conditions.
Analyzing the data of itineraries and flights.
Looking into vaccine development.
Examining the animal and insect populations.
The capacity of health systems.
As per the Brookings Institution, in the development of the new vaccine, the response of immunogenic viral components is taken from the immune system. Machine learning has assisted immunology. Artificial intelligence helps to identify the properties that are needed to combat the pandemic. Machine learning provides data with great speed, efficiency, and precision that cannot be developed by human work alone. With the help of machine assistance, immunologists have identified over one million fragments of proteins on the cell's surface.
"SYGFQPTNGVGYQPY" is a portion of COVID-19 that needs to be fragmented to know more about the pandemic. Machine learning is helping in this regard and COVID-19 vaccine development is in process.
b) Thermal Screening
Many thermal screening devices like non-contact infrared thermometers and a variety of thermal screening systems are used to detect the temperature of human beings. AI can detect the temperature of many human beings at once. Thus, it is widely used in the diagnosis of COVID-19
c) Analysis of CT Scan
Humans can make an error in the analysis of CT scans. Artificial intelligence can detect pneumonia caused by COVID-19 in the chest scan. Chest scans are taken by utilizing the data taken from machine learning.
d) Facial Recognition while wearing Masks
Machines used in facial recognition can identify people wearing the mask with 95% accuracy.
Robotics
In surgical departments, many collaborative robots like the da Vinci surgical robot are working to assist doctors in doing surgeries. The use of robots is not limited to the surgical department. They are also used in other healthcare departments. The robotic industry is making progress by leaps and bounds and it is expected to reach $ 20 billion by 2023. The robots are helping the doctors to treat the patients from remote areas with telepresence, for example, helping patients with rehabilitation and prosthetics, disinfecting the hospital rooms, packaging medical devices, and automating labs. Other medical robots include micro-bot. They are used in the therapy of the specific part of the body like clearing bacterial infections or giving radiation to a tumor.
Augmented Reality and Virtual Reality
Augmented Reality and Virtual Reality are very important technologies that are being used to assist telehealth in the situation of the COVID-19 pandemic. From treating the patients and helping the medical students in procedure simulations, this innovative technology is altering science fiction to reality.
AR and VR technology are helping to treat stroke victims by overcoming motor deficiencies. These stroke patients are taken to such a virtual and simulated environment that can help in regaining their motor skills. They provide the flexibility that cannot be attained by physical therapy. Controlled simulations also help to gather data that can be used to make care plans for patients.
Maplewood Senior Living in Connecticut is successfully using VR headsets to work with those patients that are suffering from Dementia and cognitive impairments. The environment created by augmented and virtual reality produces such medical results that cannot be gathered by the normal environment. This helps patients in reviving their memory and improving their health. Augmented reality also helps healthcare people to provide personalized services. They take information in 3D space according to doctors and surgeon's vision. This real-time access can help them devise medical procedures. This also made students learn from procedures and doctors compare and use data for an accurate diagnosis.
5G
To provide healthcare services to the patients that are residing in any remote and under-served area, speed and quality are very important to get desired outcomes. 5G is helping healthcare organizations by providing them with the transmission of large imaging files so that doctors can review and advise on patient care treatment.
Wrapping Up
The medical and healthcare field is very important for human survival. The diagnosis and treatment should be given to patients on time so that they can combat the disease and start living a healthy life. Telemedicine, the Internet of Medical Things (IoMT), Robotics, Augmented and Virtual reality, and 5G are technological trends that are used to provide incredible health facilities to billions of people around the globe. These medical technologies are also helping healthcare systems to cope with increasing demands.
https://www.rightpatient.com/wp-content/uploads/2021/01/Exploring-the-Top-Healthcare-Tech-Trends.jpg
417
800
Guest
https://www.rightpatient.com/wp-content/uploads/2021/04/RightPatient-Logoup.png
Guest
2021-01-14 12:52:49
2023-09-11 11:16:25
Exploring the Top Healthcare Technology Trends