2020 feels like yesterday – while it did seem like the longest year due to COVID-19 and a number of other issues, we've finally stepped into 2021. The pandemic did bring a lot of hardship, took a lot from us, and has changed our lives forever. However, it did also show new ways to do things we thought were never possible. For instance, virtually everyone has worked remotely (many still are doing it) and telehealth usage exploded. COVID-19 changed reality for everyone and everything, but it affected healthcare the most, especially that of the US. Many hospitals had to shut their doors, whereas many health systems closed down some of their facilities. However, one of the most dramatic changes to healthcare was telehealth, and it looks like it's here to stay. The pandemic has also forced many to adopt or come up with technology that has the potential to improve the quality of care for patients – let's take a look at some of the promising ones.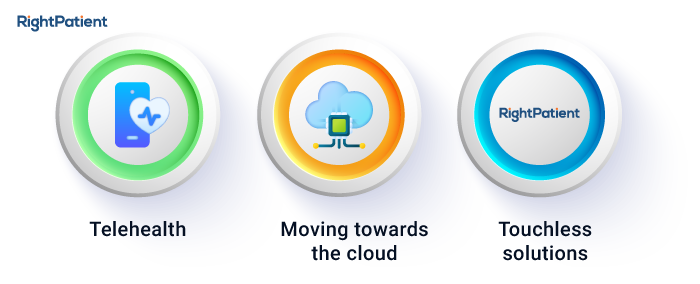 3 tech trends that can improve the quality of care for patients
Telehealth
Quite unsurprisingly, telehealth is the tech to look out for in 2021. Telehealth has been growing immensely, and it's finally getting all the attention it deserves. Since the pandemic started, the focus has been on two things – treating COVID-19 patients by allocating whatever resources required and diverting non-critical patients to virtual sessions. Months later, telehealth has been the icing on the cake – it helped reduce infections as well as helped patients receive care online without having to leave the safety of their homes. While it still might have some issues to iron out, all trends point toward a healthcare system that significantly uses virtual care.
Moving toward the cloud
Some large players are entering the healthcare system and they are definitely going to attract the attention of hospitals and health systems to store their data online. With data breaches becoming more common than ever, it shows that most of the existing cybersecurity measures taken by hospitals are not up to the mark, mostly because of budgetary issues.
While not everything can be moved to the cloud, many critical pieces of information can be, and that can ultimately help healthcare providers as it can be used to securely access data from anywhere – something that has become mandatory since the pandemic.
All of this cannot only make sharing and retrieving data more convenient but also improve healthcare processes by making them faster and more reliable – improving the quality of care for patients.
Touchless solutions
Due to the pandemic, the entire world is working hard to reduce or eliminate touch-based processes or solutions. Even in the healthcare space, touchless solutions will be seen in the coming years. However, did you know that such a solution already exists and that many forward-thinking hospitals have already been using it?
RightPatient is a touchless biometric patient identification platform that has been helping responsible healthcare providers for years. It is tried and tested, is versatile, and is helping enhance patient safety. But why exactly should more healthcare providers adopt it going forward? Well, that's because the pandemic has shown everyone how deadly physical contact can be and how quickly people can get infected.
Quite naturally, it means that everyone knows about the cons of touch-based solutions. Most patient identification platforms require physical touches from patients – raising infection control issues. Fortunately, RightPatient is entirely touchless – it attaches a photo and biometric data of the patient with their EHR. After enrollment, all a patient needs to do is look at the camera – the platform performs a search and provides the appropriate medical record in seconds.
Moreover. RightPatient is versatile enough to be used at any touchpoint within the healthcare facility, making it feasible for telehealth sessions. Patients are sent an SMS or email after they schedule appointments. They are required to provide a selfie and a photo of their driver's license – RightPatient automatically compares the pictures, ensuring remote authentication.
RightPatient not only solves a crucial problem of healthcare providers (patient misidentification), but it also helps improve patient safety, reduce duplicate medical records, and prevent medical identity theft effectively. Be a responsible healthcare leader now and use RightPatient to improve your bottom line by improving the quality of care for patients.
https://www.rightpatient.com/wp-content/uploads/2021/01/Improving-quality-of-care-for-patients-is-possible-with-RightPatient.jpg
445
700
Matt Gibson
https://www.rightpatient.com/wp-content/uploads/2021/04/RightPatient-Logoup.png
Matt Gibson
2021-01-26 04:21:55
2021-01-26 04:21:55
Improving Quality of Care for Patients - 3 Tech Trends to Watch Out for