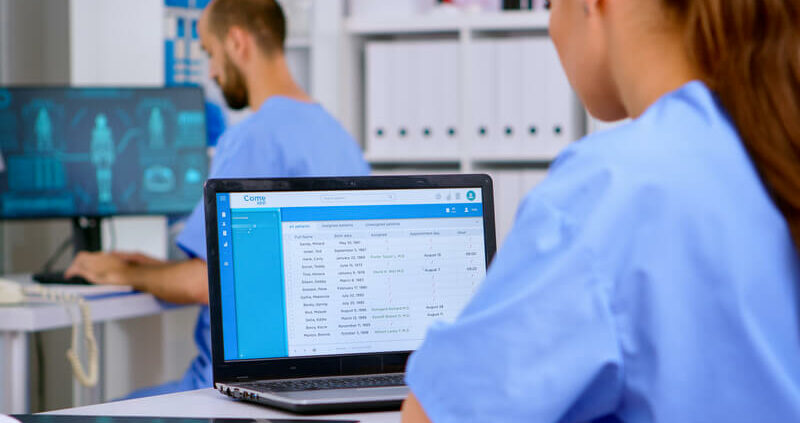 Administrative tasks in the healthcare industry are essential, but they can also be labor-intensive, extremely time-consuming, and dangerously prone to human error.
So, it isn't surprising that, since their introduction in the 1970s, Electronic Health Records (EHR) have played a pivotal role in transforming the healthcare industry – both in terms of efficiency and quality.
While these systems are still in their infancy and not entirely faultless, they have the potential to propel the healthcare sector into the future. Discover how below.
Electronic Health Records: An Overview
Electronic Health Records (EHR) refer to the digital counterpart of a patient's paper chart. Typically used in hospitals, clinics, and other medical facilities, these digital charts offer a collection of systematized information about a patient or the local population.
Since these records are often stored in internal cloud infrastructures, they can be easily accessed, shared, and recovered by different authorized healthcare providers and facilities.
Just after their invention in the late 1960s, EHRs existed in rudimentary infrastructures, and they were mainly used in academic inpatient and outpatient medical facilities.
However, thanks to the technological advancements that took place in the 1990s and 2000s, digitized patient data became more popular, and they underwent significant upgrades between 1992 and 2015. By 2011, nearly 60% of clinics were regularly using EHR technology in combination with paper charts.
How EHRs Affect the Healthcare Industry
Over the past 10 years, the crucial role played by EHRs became evident and, according to estimations by Nature, 96% of hospitals and 86% of physicians' offices in the US now use digitized medical records.
There are many reasons for the mass adoption of electronic health records that took place in the past years, and most of them are connected to the benefits this technology offers to most medical facilities.
Thanks to EHRs, clinics can now reduce the risk of human error, transfer critical patient information to other providers and facilities, and update a patient's health record in real-time. What's more, EHRs are user-friendly for both healthcare providers and patients, and they can be integrated with other systems within a certain healthcare setting (including billing and scheduling systems).
In terms of boosting the efficiency of clinical settings, EHR has played an essential role in helping the healthcare system boost automation and deal with the unprecedented demand fuelled by the Covid-19 pandemic and the aging population.
Adoption of EHRs: Challenges and Benefits
Undeniably, the implementation of electronic health records can boost the quality and efficiency of the healthcare system, reduce paperwork, and even put patients in control of their health. What's more, EHRs have helped clinics streamline patient management, build relationships of trust, and make better clinical decisions.
However, most clinics using EHRs today do so in combination with traditional paper charts, mostly due to the adoption challenges this technology is facing today.
Some of the greatest concerns hindering the widespread adoption of EHR include patient data security, physician error, data breaches, and loss or damage due to poor software infrastructures. The cost of use, training needs, and the limited tech abilities of less tech-savvy physicians are additional minor challenges.
The Future Potential of EHRs
Since their introduction over forty years ago, electronic medical records have evolved drastically. Thanks to EHR optimization and improvement strategies, physicians are now able to seamlessly access and consult real-time patient data, monitor at-home care, and schedule appointments.
What's more, as emerging technologies become more affordable and widespread, EHRs gain new, powerful functionalities, including:
GPS technology can provide patients with remote assistance and greater security levels.
IoT devices can monitor vital signs and deliver personalized reminders (i.e.: medication alerts).
Greater levels of interoperability allow for greater ease of use and access
Enhanced patient safety when touchless patient identification platforms like RightPatient are used.
Live video streaming platforms support remote communication with patients and telehealth services.
Greater levels of integration with billing, appointment scheduling, and patient management software will allow for more streamlined workflows.
More ad hoc EHR solutions that fit the specific needs of a certain clinic, hospital, lab, or facility, also through app extensions and customized functionalities.
Customized user experience for patients and healthcare providers
Faster EHR adoption and cycle times to deliver consistent and integrated data in real-time across multiple facilities.
While it is impossible to foresee the exact extent to which EHRs will change the healthcare industry, it is already evident that this technology will play a crucial role in helping the global healthcare industry cope with the unprecedented demand for quality, affordable, and accessible care.
https://www.rightpatient.com/wp-content/uploads/2022/10/A-Guide-To-The-Future-of-Electronic-Health-Records-EHR.jpg
445
800
Guest
https://www.rightpatient.com/wp-content/uploads/2021/04/RightPatient-Logoup.png
Guest
2022-10-28 09:28:22
2022-10-28 09:28:22
A Guide To The Future of Electronic Health Records (EHR)