Healthcare providers in the US have a lot on their plates. Even before the coronavirus pandemic, they had their hands full with issues like patient identification errors, cybersecurity threats, HIPAA compliance issues, an abundance of duplicate medical records, medical identity theft, a distinct lack of patient safety, and more. Whatever the case may be, progressive healthcare leaders need to ensure patient data protection at all costs. In fact, many of the aforementioned problems can be mitigated by protecting patient data – leading providers have been doing that constantly. But why is it so important? How can providers safeguard patient data? Let's dive in.
Patient data protection
Patient data protection has been one of the oldest and most important requirements for healthcare providers, and rightfully so – a patient shares critical and sensitive information with their caregivers. Names, Social Security numbers, dates of birth, contact information, addresses, facial photographs, medical history, and ailments are just some examples of the information stored within patient records. If these get compromised and land in the wrong hands, such cases can have disastrous consequences – healthcare insurance fraud, litigation costs for providers, and hampered patient safety are some common results. Thus, protecting patient data is crucial for any caregiver. Let's take a look at a few more reasons why protecting patient data is necessary for hospitals and health systems.
Reasons to protect patient data
Ensuring Compliance
Concerns regarding data privacy are more common than ever – even more so when it comes to patient data. The frequency of healthcare data breaches proves that. However, providers, along with other healthcare organizations that deal with patient data, need to have safeguards in place to protect sensitive information.
HIPAA, also known as the Health Insurance Portability and Accountability Act, was introduced back in 1996 and is primarily used for patient data protection. It mandates that all healthcare organizations who deal with PHI (protected health information) must ensure that the data is protected at all times. If an organization fails to do so or violates HIPAA in any other way, they will face heavy scrutiny and hefty fines – up to $1.5 million per year. On top of that, the person committing the violation may face criminal penalties – fines and even jail time. Data breaches can cost up to $ 6 billion for the healthcare industry, and the US also tops the list of most expensive data breaches, besides Germany.
HITECH, or the Health Information Technology for Economic and Clinical Health Act, compliments HIPAA. It was created to make sure that healthcare information technology is adopted and utilized appropriately. Privacy and security concerns are addressed by HITECH as well.
Thus, patient data protection is a must to ensure compliance with the laws and regulations that are in place. While HIPAA compliance can be cumbersome and challenging, healthcare organizations can simplify compliance management and reduce HIPAA-related administrative burdens. There are solutions available to ensure HIPAA compliance – organizations should choose one that is simple but powerful and gets the job done effectively. HIPAAReady is such a solution. A robust HIPAA compliance software, HIPAAReady ensures training management and scheduling, reduces administrative burden, and keeps all HIPAA compliance documents in a centralized location. Organizations can even detect security gaps by conducting internal audits with HIPAAReady.
Preventing medical identity theft
One of the more crucial reasons why protecting patient data is so important is because failure to do so leads to medical identity theft. Let's see how that happens.
Cybercriminals are always trying to breach the security of healthcare providers, and when they finally do so, they steal sensitive patient information and sell it on the black market for high prices. Fraudsters buy the data and assume the identity of the affected patients – committing medical identity theft, pushing off the expenses on the victims, and fraudulently obtaining healthcare services.
Medical identity theft can lead to lawsuits, demand significant time and costs from patients and/or providers to rectify the issues, and compromise patient data integrity. That leads us to the next reason for protecting patient data.
Enhancing patient safety
Failure to maintain patient data integrity means that the data is not accurate anymore. When a provider fails to protect patient data, it leads to medical identity theft. When the fraudster uses the victim's healthcare services, he/she contaminates the patient data – the fraudster's data gets written onto the victim's patient record, rendering it inaccurate. If such cases remain undetected or unfixed, they can severely hamper patient outcomes. Medical errors, delays in treatment, incorrect procedures, and even deaths – these are just some of the numerous consequences of compromised patient data. Thus, patient data protection is critical for enhancing patient safety.
Protect patient data now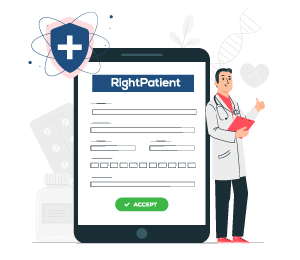 Protecting patient data is a huge challenge, but it is achievable. One of the first and foremost things providers can do to protect patient data is to ensure positive patient identification at each encounter. That's where we can help.
RightPatient is the leading patient identification solution chosen by progressive providers. It is a photo-based and touchless biometric patient identification platform with common goals shared by caregivers – to enhance patient safety, to ensure accurate patient identification, and to prevent medical identity theft.
It locks the medical records of patients upon registration with their photos. Returning patients look at the camera and the platform matches the photos and provides accurate records within seconds. Even with healthcare data breaches, RightPatient protects your patients and their data as the platform will red-flag fraudsters during patient identity verification.
Protect patient data, prevent medical identity theft, ensure positive patient identification, and more – with RightPatient.
https://www.rightpatient.com/wp-content/uploads/2020/08/RightPatient-ensures-patient-data-protection.jpg
445
700
Matt Gibson
https://www.rightpatient.com/wp-content/uploads/2021/04/RightPatient-Logoup.png
Matt Gibson
2020-08-07 14:44:03
2020-08-11 10:42:28
Patient Data Protection is Ensured by Responsible Healthcare Leaders