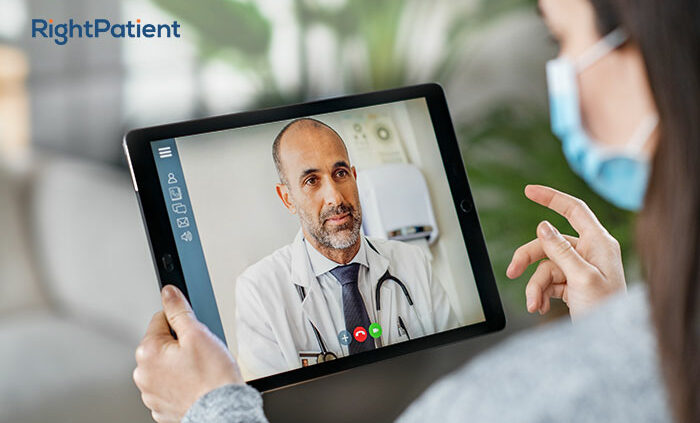 Telehealth has been around for years, but it has only been growing exponentially for the past few months. One of the biggest propellers that caused the surge in telehealth usage is the coronavirus pandemic, while the other reason is its benefit of taking healthcare out of the regular setting and setting up safe and remote environments for the patients and caregivers. While many predict that telehealth is here to stay after seeing how it can benefit caregivers and patients, health systems and hospitals need to focus on another important aspect – how can medical identity theft occur during telehealth visits, and is it preventable? Fortunately, it can be – with RightPatient. Let's dive deep.
Telehealth skyrocketed due to COVID-19
Since telehealth was introduced, experts in the US healthcare system have been busy debating its pros and cons, affecting its growth and questioning its capabilities. However, as the pandemic has shown, telehealth has been extremely crucial for the US healthcare system during its ongoing battle against the pandemic. It has helped reduce the risk of more COVID-19 cases as non-COVID-19 patients were recommended to use telehealth instead of inpatient visits.
As previously mentioned, the biggest benefit of telehealth is that it enables patients and caregivers to engage in healthcare remotely. All they need is a good internet connection and devices to communicate with each other – eliminating any chances of contracting the virus as opposed to inpatient visits during the pandemic. Thus, it is no surprise that telehealth demand has been sky-high, with experts predicting over one billion visits during 2020 alone. While providers are quickly adapting to the changes and using telehealth, hospitals and health systems must also think about a serious problem – how can medical identity theft occur during telehealth usage?
Medical identity theft is all over the place
Medical identity theft is nothing new. Hackers steal valuable patient information through healthcare data breaches. They sell it for up to $1000 per record on the black market to fraudsters. Since healthcare is quite expensive, these fraudsters prefer buying patient information from hackers for a much cheaper price, shifting the healthcare costs onto the shoulders of the victims.
Medical identity theft is becoming quite prevalent. In 2019 alone, more patient records were breached in comparison to the previous three years combined. Medical identity theft leads to lawsuits, patient safety issues, settlement costs up to $250,000, unwanted attention, and loss of goodwill. Thus, it becomes increasingly necessary to ensure that medical identity theft is prevented, even during telehealth visits.
But how can medical identity theft occur during telehealth? Well, the stolen information can be easily used by the fraudster to bypass the obsolete patient identification systems most hospitals have – just like inpatient visits. Moreover, many patients sometimes even give their credentials to their family members or friends willingly – aiding them in medical identity theft.
Such cases lead to added costs like medical record clean-ups, lack of patient data integrity, and patient safety issues, among other problems. Hospitals are facing huge losses already due to the pandemic, and they need to recover their losses if they want to survive in the future. One of the best ways to do all of that is by ensuring positive patient identification.
Accurate patient identification with RightPatient
RightPatient is the healthcare industry's leading touchless patient identification platform. It locks the medical records of the patients with their photos upon enrollment. Whenever the patient comes, all he/she needs to do is look at the camera and the platform matches the photos and provides the correct medical record within seconds. RightPatient seamlessly integrates with the major EHR systems, enhancing the experience for providers as well. It is hygienic too, enhancing patient safety and reducing infection control issues.
While it has been ensuring accurate patient identification for providers for years, RightPatient brings the same expertise to telehealth. It can also be used to remotely validate a patient's identity. Patients receive an SMS or email after scheduling an appointment, after which they need to take a selfie and photos of their driver's license. RightPatient automatically matches the photos of the driver's license and the selfie to validate patient identity – preventing medical identity theft in the process.
RightPatient has been successfully protecting over 10 million patient records and preventing fraudsters from harming patients while reducing healthcare costs, denied claims, lawsuits, and boosting the bottom lines in the process. Protect your patients – even during telehealth visits – with RightPatient.
https://www.rightpatient.com/wp-content/uploads/2020/07/How-can-medical-identity-theft-occur-during-telehealth-visits.jpg
445
700
Matt Gibson
https://www.rightpatient.com/wp-content/uploads/2021/04/RightPatient-Logoup.png
Matt Gibson
2020-07-29 16:48:25
2020-08-10 07:15:54
How Can Medical Identity Theft Occur During Telehealth Visits?