The COVID-19 pandemic has – and still is – left an unprecedented impact on our lives, and it's safe to assume that it will leave a mark for years, if not decades. While the novel virus has claimed over 1 million lives around the world, over 219,000 of them were Americans. The US healthcare system is also on the receiving end – it is expected to face unprecedented losses of around $323 billion this year. Many healthcare providers have been forced to shut their doors permanently, furlough or lay off employees, or introduce pay cuts to deal with the financial blows. To make matters worse, healthcare providers are receiving small amounts of reimbursements for treating uninsured COVID-19 patients. Let's take a look at the scenario, the numbers associated with the issue, and how providers can mitigate these losses by preventing wrong patient identification.
COVID-19 has created an unprecedented financial strain for hospitals
COVID-19 has been spreading like wildfire, impacting everything and everyone it comes in contact with. After it hit the US, the healthcare system braced for impact the best way it could; hospitals canceled elective procedures and reassigned all resources to handle the surge of incoming COVID-19 patients. Naturally, hospitals and health systems are still suffering from the financial strain caused by COVID-19 as well as the cancellation of elective procedures.
Providers would get reimbursed for treating uninsured COVID-19 patients
Back in April, the Trump administration's coronavirus treatment reimbursement program was announced. Healthcare providers who treated uninsured COVID-19 patients would be reimbursed using the money from the Coronavirus Aid, Relief, and Economic Security (CARES) Act. This has been done so that caregivers don't incur any more losses as well as to avoid uninsured patients facing shocking bills related to COVID-19. As a result, the Department of Health and Human Services (HHS) has reimbursed $881 million to around 8,000 providers to date.
However, it was estimated previously that the reimbursement for treating uninsured COVID-19 patients would range from $13.9 billion to $41.8 billion. As hospitals are facing losses of around $323 billion this year, they need higher reimbursements if they are to survive in the post-pandemic world.
Why is this happening?
One of the reasons pointed out by the Kaiser Family Foundation is the eligibility for receiving reimbursements – hospitals treating uninsured patients who have a primary diagnosis of COVID-19 will be receiving reimbursements. This means that even though healthcare providers might treat uninsured patients, if their primary diagnosis isn't COVID-19, the caregivers won't be eligible for reimbursements.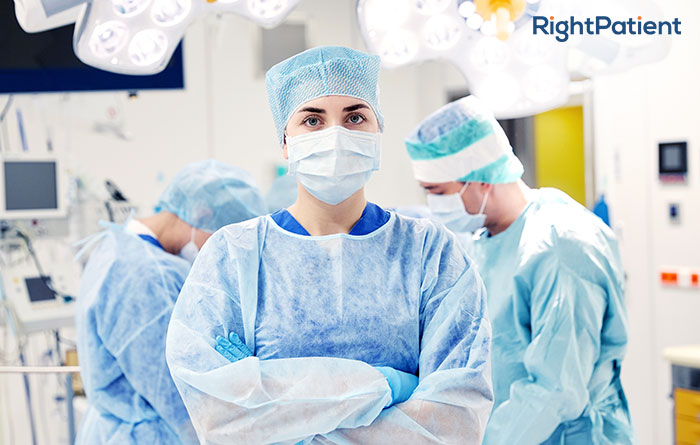 Another issue with the program is that it doesn't guarantee that all caregivers treating uninsured COVID-19 patients will receive the reimbursements – it depends on the availability of funding.
Hospitals must cut costs by mitigating wrong patient identification
The biggest challenge hospitals are facing now is to survive the financial strain. As previously mentioned, many have already closed their doors. Others are utilizing alternative cost-cutting methods such as furloughing or laying off employees, introducing reduced salaries, or restructuring their operations.
However, healthcare providers have a long list of problems that stem from wrong patient identification, and if they can eliminate it, they can significantly reduce costs and mitigate losses – enough to survive the financial crisis. Moreover, patient identification errors have been impacting healthcare outcomes even during the pandemic – for instance, test results went to the wrong patients, treatment was delayed due to incorrect patient data, and so on. All of these issues can be eliminated with RightPatient.
RightPatient effectively prevents wrong patient identification
Wrong patient identification has been a significant problem for years. While many healthcare providers wisely chose RightPatient before the pandemic (thanks to its touchless nature) others are facing issues with their touch-based solutions. Many have even reported a significant drop in utilization of the touch-based patient identification solutions as patients are extremely reluctant to use them due to concerns regarding infections. While infection control used to be a concern for hospitals only, since the pandemic, patients are well aware of the consequences.
Thankfully, patients and caregivers don't have to worry about this with RightPatient, the industry's leading patient identification platform. It uses a characteristic that others cannot replicate or steal: patients' faces. Using patients' photos and a photo of their driver's license or other identification cards after scheduling an appointment, RightPatient automatically matches the photos to ensure accurate patient identification right from the start and across the care continuum.
Leading providers have deployed RightPatient across their facilities and are reducing denied claims, preventing duplicate medical records, and enhancing patient safety – ultimately eliminating redundant costs and boosting their bottom line in the process. After the pandemic, every hospital needs to reduce such costs to survive – use RightPatient to help you do so.
https://www.rightpatient.com/wp-content/uploads/2020/11/Preventing-wrong-patient-identification-can-mitigate-losses.jpg
445
700
Matt Gibson
https://www.rightpatient.com/wp-content/uploads/2021/04/RightPatient-Logoup.png
Matt Gibson
2020-11-02 12:03:34
2022-01-25 09:29:14
Hospitals Are Facing Lower Reimbursements - Reduce Losses by Preventing Wrong Patient Identification