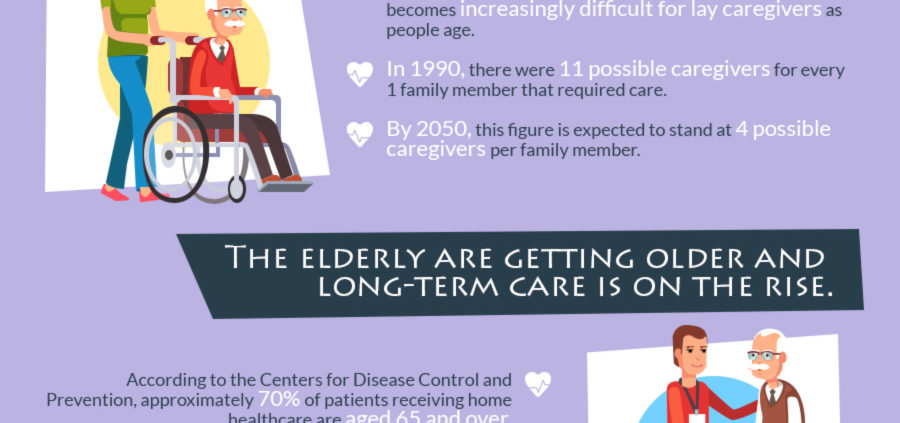 The following guest post on homecare was submitted by Be Independent Home Care.
As of now, the US healthcare industry is worth $84 billion and employs 1.7 million people. Employment in homecare as a home health aide is one of the fastest growing occupations in the country, with a growth rate of 38% expected by 2024 from a decade previously. On the basis of those statistics, the industry appears to be thriving.
A further inspection of the full picture, though, shows that even this substantial growth rate might not be enough to keep up with demand. The number of senior citizens in the U.S. is getting larger and larger every single day, with the senior population projected to reach 83 million by the end of this year. Where once there was 11 prospective family caregivers per person in need of care, that ratio could dwindle to four possible caregivers per person in the next 30 years. The days of lay caregiving seem to be coming to an end.
Furthermore, the need is not just for more healthcare professionals to provide the necessary care; the requisite standards of care are growing higher all the time. Healthcare providers and agencies need to meet strict licensing regulations which, while necessary in order to ensure that patients are cared for adequately, will further limit the pool of potential caregivers.
Be Independent Home Care, an Irish provider of one-on-one homecare, has produced this absorbing and thought-provoking infographic on the current state of the healthcare industry and the road down which it is traveling. The demand for healthcare services means that the industry should be booming, but is the supply of qualified healthcare professionals there to meet it?

https://www.rightpatient.com/wp-content/uploads/2016/05/Homecare-The-Worlds-Fastest-Growing-Industry.jpg
2048
340
John Trader
https://www.rightpatient.com/wp-content/uploads/2021/04/RightPatient-Logoup.png
John Trader
2016-05-25 06:00:45
2021-07-11 09:08:20
Homecare: The World's Fastest Growing Industry?