COVID-19 has the U.S. healthcare system sweating through probably the most volatile phase in its history. Hospitals are opening up their doors and gradually receiving patients as things are getting much better with the distribution of vaccines. However, the danger of underlying issues that have plagued the healthcare system for decades still remains. Despite these problems, the burden of hospitals providing immaculate healthcare services is still there. That being said, here are some of the practices that can help hospitals with improving healthcare outcomes and reducing their issues.
Improving healthcare outcomes is a major priority currently
Administering proper care at the proper time and the avoidance of patient safety incidents is a major objective of hospitals. Thus, hospitals are under pressure to implement relevant strategies and solutions that will enhance their effectiveness. This includes partnering with other care providers to protect patient data integrity. While implementing some of these strategies can be pretty expensive, they do help with improving healthcare outcomes – here are some of the most important ones:
Ensuring efficient collaboration with the patients' care providers
The right kind of collaboration is important in healthcare nowadays and CMS has established new conditions that require caregivers to work together. It has upped the ante on the degree of seriousness of it all.
So, what is the correlation between collaboration and patient outcomes? How does it work to improve healthcare outcomes?
Before terms such as interoperability and collaboration existed, people often were loyal to a single healthcare facility. This has changed, especially with data sharing, EHRs, and interoperability – patients are now free to visit multiple caregivers for treatments to their various conditions and ailments. There might be an interrelation between patients' conditions and this provides ground for caregivers to associate to ensure that they obtain all the necessary data and up-to-date information that will enable them to make the best decisions with regards to handling the patient and thus improving healthcare outcomes.

A hospital that is open to collaboration and the implementation of required strategies and relevant solutions will go a long way in helping to improve patient outcomes. The CMS requirements mandate that caregivers support sending and receiving electronic notifications during ADT events that provide updated information about a patient's condition. RightPatient is a useful tool that caregivers can use to ensure the proper identification of patients and prevent false alerts – more on that later.
Ensuring patient data integrity
The integrity of patient data is often overlooked when it comes to its effects on healthcare outcomes but it is crucial nonetheless. Inadequate positive patient identification can ultimately affect the integrity of patient data. This occurs when a patient is treated with the medical record of another patient or the data gets corrupted in the EHR as the wrong information gets saved in it. When the actual patient comes in for treatment, he gets the wrong administration due to inaccurate information. Thus, medical errors arise, leading to incorrect treatment plans, wrong medication, and more, which lead to negative healthcare outcomes.
Impersonation by a fraudster can also lead to the compromise of patient data integrity – it occurs during medical identity theft. This case is similar to patient misidentification, the only difference might just be that the impersonator does it deliberately. The fraudster receiving the treatment then gets his/her information added into the victim's EHR thus corrupting patient data. If this passes on undetected, the victim could end up undergoing the wrong treatment procedure.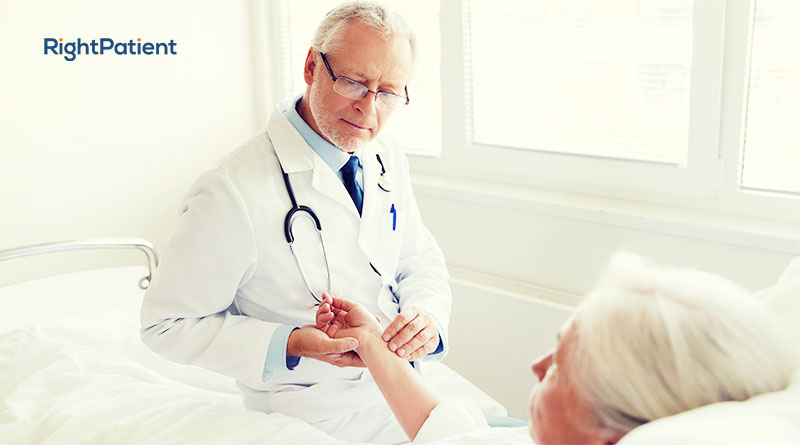 Therefore, a patient's data has to be protected against tampering to further improve the healthcare outcome of the patients due to the reception of the proper treatment on schedule.
Avoiding preventable medical errors
The focus has also shifted to limiting the occurrence of otherwise avoidable medical errors. The statistics behind such errors are quite alarming. These are common as a result of technical errors, medication errors, medical record mix-ups, wrong information, and so on. Poor patient identification is also responsible for most of the preventable medical errors. Thus, if patients can be accurately identified, then it will significantly improve patient outcomes.
Preventing patient misidentification
The common problem in all the scenarios above is patient identification errors. It causes a huge problem for hospitals and health systems in general as discussed earlier. With patient misidentification, patient safety can be jeopardized with false alerts rampant during collaboration with other caregivers, sharing corrupted patient information, and the consequence is medical error. The bottom line is that misidentification can affect healthcare outcomes and it can even lead to the death of patients.
Fortunately, accurate patient identification with RightPatient can help improve healthcare outcomes.
RightPatient has been helping improve patient safety
RightPatient, with its touchless biometric patient identification platform, has become the top choice for several healthcare providers. It has helped them to enhance patient safety, improve patient healthcare outcomes, and reduce the occurrence of medical errors. The benefits are numerous for both patients and caregivers and this includes safety – it is contactless and perfect for use in a post-pandemic world.
https://www.rightpatient.com/wp-content/uploads/2021/06/Improving-Healthcare-Outcomes-RightPatient.jpg
445
800
Matt Gibson
https://www.rightpatient.com/wp-content/uploads/2021/04/RightPatient-Logoup.png
Matt Gibson
2021-06-03 04:56:56
2021-06-04 06:00:50
Improving Healthcare Outcomes with 4 Strategies