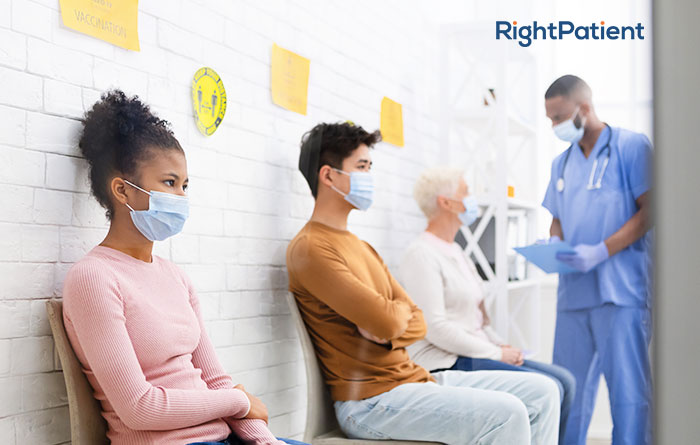 The moment everyone's been dreading is almost upon us – another wave of COVID-19. This was inevitable, as most experts had stated that there would be a significant surge during this year's fall season. According to experts, almost half of the US – including Alabama, Alaska, Colorado, Texas, Utah, and Washington – is facing rising cases. The CDC (The Centers for Disease Control and Prevention) Director previously stated that the fall might well be one of the worst times the US healthcare system will face. That being said, as hospitals are steeling themselves for the upcoming surge, they need all the help they can get to ensure improved patient outcomes. Let's explore the CDC's most recent findings, what the future might hold, some problems faced by caregivers during the first wave, and how RightPatient can enhance patient safety and mitigate known issues.
Some frightening statistics
According to the CDC, COVID-19 tests have been increasing across the US. As of now, Rhode Island, Vermont, Wyoming, Colorado, Minnesota, Kansas, Maine, Massachusetts, Nebraska, Connecticut, and Iowa are the states experiencing the fastest spread of the novel virus, according to rt.live. Unfortunately, that's not all – it's just the beginning.
On the 30th of October, the US hit a record high for daily COVID-19 cases with a staggering 99,155 cases. Moreover, the previous day had also held that record, as per The New York Times. 100,000 daily COVID-19 cases might soon become a reality. Public health officials also told The New York Times that positive rapid test results are being severely undercounted. To make things worse, it's virtually impossible now to track the COVID-19 cases back to a single source.
With all that said, hospitals are preparing for the worst, and they need all the help they can get for improved patient outcomes – let's take a look at what happened during the first wave.
Problems faced by healthcare providers
Tom Leary, HIMSS VP of Government Relations stated that incorrect patient data leads to a number of issues that hamper any public health response initiative. Delays in sharing COVID-19 test results, inaccurate information within patient records, and the lack of properly shared patient data were some consequences that could be traced back to an overlooked but critical problem of the US healthcare system: patient identification errors. Moreover, whenever a vaccine is created, its deployment will require immaculate patient identification in order to make it effective – which patients received the shot, which are still waiting for it, and what are the outcomes.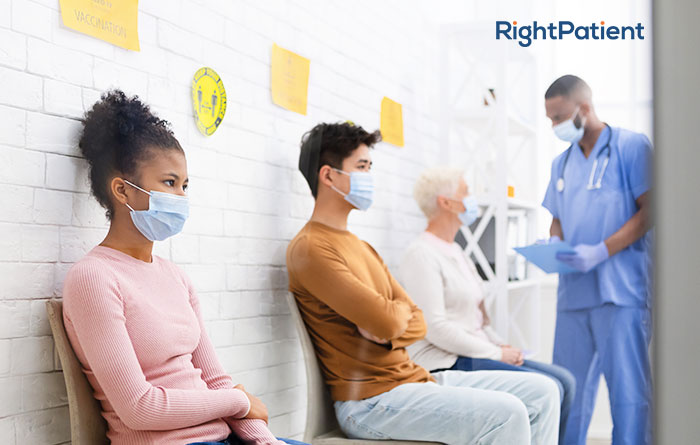 Among other problems, patient misidentification was quite prevalent during the initial COVID-19 wave, and it's natural to assume that it will happen again. Moreover, when COVID-19 spikes become overwhelming, regular patients will once again resort to using telehealth.
Thus, if caregivers want to ensure improved patient outcomes, they not only need to ensure positive patient identification but also ensure patient safety during both inpatient visits and remote sessions. Fortunately, as previously mentioned, that's where RightPatient can help.
RightPatient ensures improved patient outcomes
RightPatient is a touchless biometric patient identification solution that has been helping healthcare providers for years. It locks the medical records of the patients using their photos upon enrollment.
During appointment scheduling, patients receive an SMS or email requiring them to provide a personal photo as well as a photo of their driver's license. RightPatient automatically matches the photos and verifies their identities remotely, ensuring accurate patient data right from the start for improved patient outcomes.
In healthcare facilities, patients only need to look at the camera – the platform matches the photo saved during enrollment with the live image. After verification, it provides the appropriate medical record within seconds – enhancing patient safety and ensuring infection prevention.
RightPatient protects patient data integrity, prevents duplicate medical records, and enhances healthcare outcomes by identifying patients accurately across the care continuum. Be a responsible caregiver and protect patients now with RightPatient.
https://www.rightpatient.com/wp-content/uploads/2020/11/RightPatient-enhances-patient-safety-with-touchless-patient-identification.jpg
445
700
Matt Gibson
https://www.rightpatient.com/wp-content/uploads/2021/04/RightPatient-Logoup.png
Matt Gibson
2020-11-12 04:36:28
2020-11-12 04:36:28
Hospitals Must Ensure Improved Patient Outcomes as COVID-19 Cases Spike