So, this topic shouldn't surprise you, but many folks are happy about the announcement. You can't help but have seen that the use of telehealth soared after the COVID-19 pandemic occurred in the United States along with the easing of any of the surrounding restrictions. Telehealth is here to stay now, but there are concerns regarding healthcare identity theft. Ok, its usage has fallen slightly currently, although there is an ever-expanding amount of healthcare specialists, patients, and providers who wish to institute these virtual visits into a permanent healthcare option. Luckily, that appears to be a good possibility since the Biden administration supports this, so long as it meets precise conditions. Nevertheless, there are additional problems to solve – the most important one is medical identity theft occurring during a session.
Therefore, let's look closer at the role of telehealth in healthcare, the reason lots of folks now support it, the way the Biden administration supports it, as well as the way RightPatient can avert medical ID theft cases during a remote session.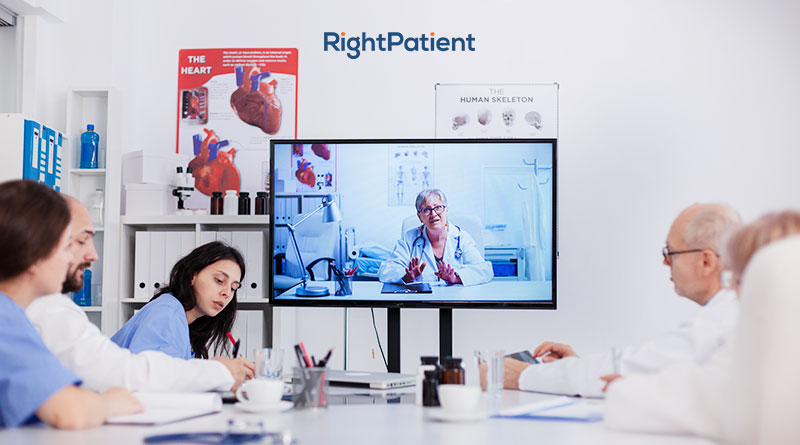 Telehealth is getting more popular amongst providers and users
Telehealth has existed for many years, however, it only revealed its full potential when the COVID-19 pandemic occurred. Since people weren't able to see their providers in person and many elective procedures got postponed indefinitely, healthcare givers, as well as the government, rushed to provide another method of treating non-critical patients. Telehealth proved to be the answer.
Since another method of treating patients was urgently needed, telehealth got elected, and many of its previous restrictions got lessened. Telehealth got very popular amongst caregivers and patients. A lot of younger patients even decided they prefer telehealth sessions and will use them after the COVID-19 pandemic ends.
Though, a lot are concerned that whenever the pandemic ends, the restrictions on telehealth will return and it will again be hard to use.
The future of Telehealth seems great – Yet there's a need for the correct framework
Luckily, that is not going to occur, as the Biden administration has said it is going to support expanded telehealth access when the COVID-19 problem ends. Because it assisted in providing virtual care as well as has also ensured patients were safe during this unprecedented timeframe, it has earned a substantial amount of backers who profited from telehealth, so wish to carry it on.
Congress is looking at the present scenario, contemplating which of the regulations on virtual care ought to change whenever the Covid emergency is done. Currently, there are about forty-three bills that have provisions regarding telehealth that have been generated since the start of the pandemic, according to the Alliance for Connected Care.
Still, HHS Secretary, Mr. Becerra, asserted that everyone must be able to access telehealth, and care quality must be ensured. The Biden administration aims to ensure U.S. citizens get top-notch healthcare through virtual appointments – he said they do not wish folks to get billed for items that do not improve the services.
Healthcare identity theft can happen during a virtual visit as well
So, whilst telehealth's future seems bright, a few issues must be ironed out. The healthcare providers additionally have to work to ensure patients get the top care and stay safe from medical identity theft.
One of the concerns some have overlooked regarding telehealth visits is medical identity theft cases that may happen in a session. Exactly like the way healthcare frauds as well as healthcare identity theft occurs in an in-person appointment, experts predict these will happen in virtual visits too. Healthcare suppliers must make sure that is averted – something they can accomplish via better identification of patients during the telehealth visits. Thankfully, RightPatient assists with doing that, and even more!
RightPatient averts healthcare identity theft in real-time
For years RightPatient has prevented medical ID theft as well as healthcare fraud, thus, safeguarding millions of patient records throughout several top hospitals and many health systems. RightPatient leads the way in touchless biometric patient ID platforms which makes sure patients get identified correctly throughout the care field. Consequently, when a bad actor attempts to pass themselves off as a patient, RightPatient red flags them, avoiding medical identity theft instantly, even during virtual visits.
RightPatient does not just assist in preventing healthcare identity theft, but it additionally safeguards patient information, ensures patient safety, and decreases litigation costs related to identity theft incidents.
Since the Biden administration backs telehealth, the future of using it looks great. Yet, caregivers must avert problems connecting to virtual appointments, and serious issues such as medical ID theft can be avoided with RightPatient.
What is the way you prevent these cases of identity theft in your medical facility?
https://www.rightpatient.com/wp-content/uploads/2021/07/Preventing-Healthcare-Identity-Theft-RightPatient.jpg
445
800
Matt Gibson
https://www.rightpatient.com/wp-content/uploads/2021/04/RightPatient-Logoup.png
Matt Gibson
2021-07-13 06:24:45
2021-07-14 03:42:57
Curbing Healthcare Identity Theft During Telehealth as it Gains the Biden Administration's Support