The following guest post on big data and healthcare was submitted by Emma Lawson.
Healthcare is one of the largest and the most complex ecosystems that humans as a species have brought to life. With healthcare providers, payers, researchers, patients and additional entities that all have their own needs and agendas, it has grown into a world of its own, governed by its own rules and featuring a perpetual tug-of-war between the different interest groups.
One concept that might help make sense of all of this, provide benefits to all the interested parties and lead to a more stable ecosystem is big data. Big data has been around for some time and in certain fields it has found much use, but in healthcare, we are still seeing it take its very first steps.
Still, it has definitely become a part of the healthcare ecosystem and ind the future, it is more likely than not that it will become one of its most prominent parts.
Big Data Essentials
Big data is a relatively simple idea. It denotes sets of data that are extremely large, created very quickly (often in real time) and which are varied when it comes to their sources, classification and any other criteria you can think of.
Big data is, therefore, different from the more "traditional" data sets that are collected in limited amounts, from very specific sources and which are then organized in relational databases which feature a simple hierarchy and are easy to use.
A certain organization or a healthcare corporate entity might collect data from thousands of different medical practitioners, hospitals, government agencies, pharmaceutical companies, research institutions and patients themselves. They would then try to organize and analyze this data, all in order to come up with insights that would allow them to improve their services or save money.
Big Data Potential for Healthcare

In the perfect world, big data would hold almost limitless potential for everyone involved, from the healthcare providers to patients and even the payers.
For example, healthcare providers can gain much more precise and balanced insights by utilizing sets of data that are larger than any previously analyzed. In combination with data provided by patients themselves, healthcare providers would be able to dramatically increase the chances of full recovery and provide the ultimate healthcare for their patients.
When it comes to patients, smart use of big data would allow them to play a much more active role in their recovery. Furthermore, since their healthcare providers would operate with more data, the patients' chances of recovery would dramatically increase. In short, more data would, in a perfect world, mean more positive outcomes for the patients.
When it comes to governments and health insurance companies, the use of big data can tighten their budgets by clearly indicating which treatments work and what are the minimum-invasive treatments and habits that would reduce healthcare expenditure.
Proper use of big data could also enhance the data security and other security concerns that the healthcare industry has to deal with.
A Few Current Examples
The best way to illustrate how big data can be used in healthcare is to take a look at a few ongoing projects and adopted practices.
For instance, Blue Shield of California has partnered with NantHealth in order to establish an integrated technology system which will allow for much more streamlined evidence-based care in a number of areas.
Kaiser Permanente has also implemented a system, called HealthConnect, which enables data exchange across innumerable medical facilities through the use of electronic records. Among the early results of HealthConnect are improved cardiovascular disease outcomes and more than a $1 billion saved in lab tests and office visits.
The National Institutes of Health and the National Patient-Centered Research Network have both launched certain initiatives that would allow for a more standardized collection, storage and analysis of big data, which will promote its use in healthcare.
What the Future Holds

While certain involved parties are already doing great things with big data in healthcare, the future is where we should look. The main reason for this is that big data applications are still limited by the lack of experts, certain security issues, and the chaotic nature of the data itself, among other things. Once these problems become the past, big data will definitely become one of the most prominent concepts in healthcare and its advancement.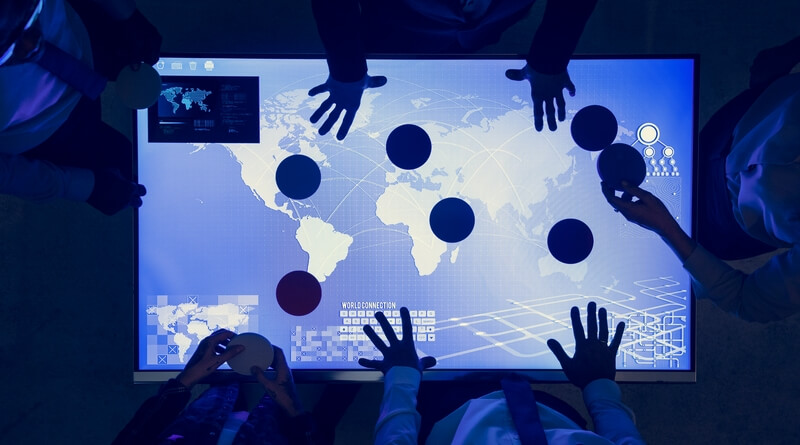 We are already seeing certain steps being made in the right direction, with hybrid data models which combine the volume and the variety of data with the more structured nature of relational databases. Also, there are some companies that have started utilizing dark data in their data analysis, like Panorama for example. Dark data entails data so chaotic and huge that the standard big data models cannot handle it.
With the proliferation of sensors, wearables and other devices that will provide additional data coming from patients themselves, the amount of big data and its usefulness will only grow.
Closing Word

Big data has already begun to influence healthcare. Barring any catastrophic events, it will become an inseparable part of healthcare systems around the world, helping everyone involved attain their goals more easily.
Above everything else, big data has already started saving lives and it is a trend that will continue.
Emma Lawson is a passionate writer, online article editor and a health enthusiast. In her spare time, she likes to do research, and write articles to create awareness regarding healthy lifestyle. She also strives to suggest innovative home remedies that can help you lead a quality and long life.
Twitter @EmmahLawson
https://www.rightpatient.com/wp-content/uploads/2016/11/technology-1587673_1280.jpg
504
800
John Trader
https://www.rightpatient.com/wp-content/uploads/2021/04/RightPatient-Logoup.png
John Trader
2016-11-11 03:00:43
2023-04-25 08:07:44
Big Data and Healthcare – The Present and the Future