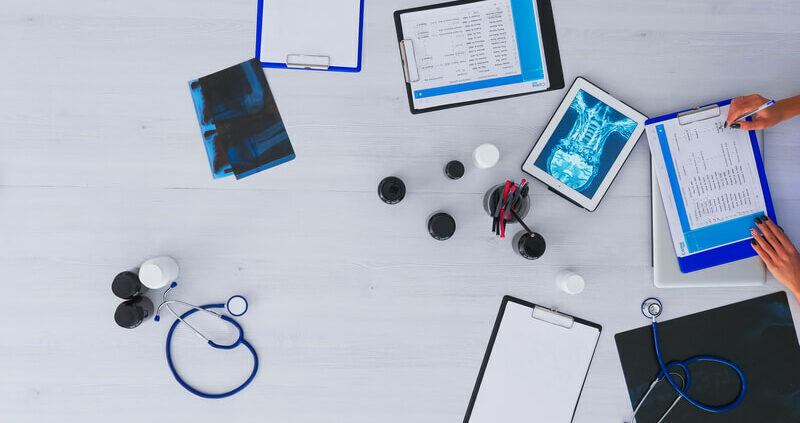 As a medical or medical administration professional, you're likely familiar with the ways that the digital world has impacted the healthcare industry. On the whole, the technological developments involved in the medical field have caused a variety of positive changes for patients and providers alike. However, there is still the risk that the tech used in medical settings can be put at risk if not treated carefully. Patients' medical records are private and often sensitive, and it's important to protect them as much as possible. Here are a few ways to better protect and secure patient medical records.
Regularly Perform Risk Assessment
Although this one might seem self-explanatory, you'd be surprised at how long some people go without assessing risk within their systems. Especially if you make any big changes to things like tech systems or location, those can come with breaches in security that can go easily undetected while you adjust. Additionally, many states require regular risk assessments by HIPAA law anyway.
Encrypt Your Data
This is a tip that anybody can use for data security, and healthcare providers are no different. From emails to patient portals and backend systems, utilizing encryption can keep cybercriminals out of your systems and protect any data from breaches. Especially nowadays, it's important to protect your data as much as possible.
Keep Organized
Although this has more to do with your end of things than the tech end, it certainly helps with storing the correct information in the proper places. You want to be able to provide people with their medical information and access patient files without going through too much other sensitive information to get to it. Under HIPAA, medical professionals are required to provide a patient with a copy of their health information within 30 days of their request, so you want to be able to get to it as quickly as possible without risking security every time.
Monitor System Access
This is something that you can put into practice right away, without meddling with the actual software or hardware – specifically, you can put this into place by implementing policies within your department. When everyone has the same level of access to your systems, it can risk breaches in security. However, when you monitor who has access to your systems, you can mitigate risk by creating levels of security within the back end.
Use Two-Factor Authentication For Patient Portals
Many healthcare providers have followed the recent trend of providing patient portals for patients to access their healthcare information remotely. While this is a great idea for ease and accessibility – in addition to keeping track of a patient's healthcare and insurance information – patient portals can also be a big security risk for outside threats. One way to mitigate this risk is by requiring two-factor authentication for all of the patient portal accounts, so you can better ensure that everyone using your system is actually allowed to be there.
Be Careful About Remote Access
Speaking of remote access, it can be tempting to allow your employees – both healthcare providers and other industry professionals – to access patient information and other sensitive files remotely in order to better aid productivity. However, this can also lead to breaches in security, especially if it's easier to access files on the professional side, it might lead to hacking and file breaches. Sometimes, it can be best to closely monitor remote access, or only allow people to utilize the online backend when they're on the premises.
Perform Updates Periodically
Updating the systems as necessary might sound like an obvious tip, but it's always good to have a reminder. Just like regular risk assessments, performing regular updates can ensure that you have the best and most updated security capabilities available. Even if it might take a little while to fully update everything, it's absolutely worth the time and effort for the updated security measures.
Use a Robust Patient ID Platform
Ensuring accurate patient identification helps protect medical records in several ways. It prevents medical record mix-ups, duplicate medical records, overlays, and even medical identity theft. RightPatient, for instance, is a touchless biometric patient identification platform that uses patient photos to identify them accurately across the care continuum. After locking medical records with patients' photos, they only need to look at the camera during subsequent visits, RightPatient does the rest – preventing mix-ups, identity theft, and protecting medical records in the process.
Securing Your Medical Files
No matter where you work in the medical sphere, it's always important to secure your patients' files as much as possible. With technology moving at a faster rate than ever before to offer convenience and ease, it's also important to keep an eye on security measures, especially when it comes to sensitive information like medical records.
https://www.rightpatient.com/wp-content/uploads/2021/10/8-Ways-to-Better-Secure-Patient-Medical-Records.jpg
445
800
Guest
https://www.rightpatient.com/wp-content/uploads/2021/04/RightPatient-Logoup.png
Guest
2021-10-28 03:24:51
2022-08-10 12:09:02
8 Ways to Better Secure Patient Medical Records