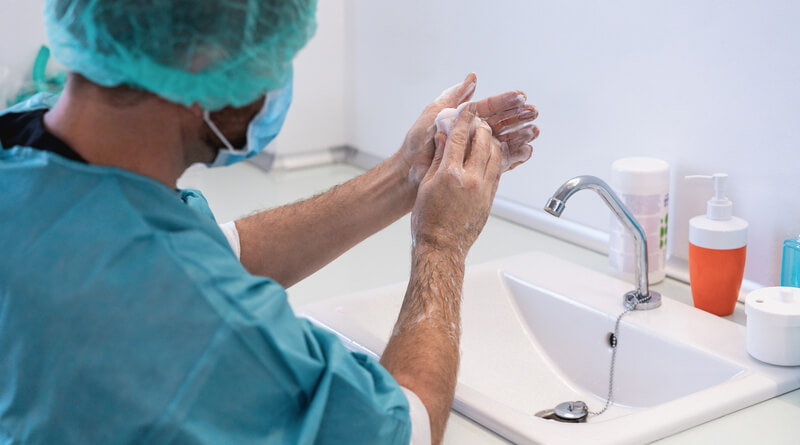 Wikipedia defines infection control in healthcare as "the discipline concerned with preventing nosocomial infections or healthcare-associated infection…an essential, though often under recognized and under supported part of the infrastructure of healthcare." As part of patient and staff safety protocol, hospitals aggressively implement and monitor infection control measures which include consistent cleaning, disinfection, and sterilization of equipment, instruments, and non-antimicrobial surfaces.
Patients and staff can be most susceptible to infection by coming in contact with a 'touch' surface that hasn't been properly disinfected or sanitized by hospital staff. As more hospitals evaluate and deploy biometric patient identification systems for patient identification to help:
Increase patient safety
Eliminate duplicate medical records
Prevent patient fraud and medical identity theft
Reduce risk
Overcome issues with cultural naming conventions
Streamline patient registration
through research and due diligence, they are discovering there are choices in what types of solutions to implement. One of the choices is what type of biometric hardware device to use as the mechanism to enroll patients and subsequently identify them on future visits. Since biometric patient identification technology devices are consistently being used day in and day out, and may receive hundreds of touches per day in high throughput environments, it seems like contactless hardware would be a more logical choice to deploy. If a hospital chooses a biometric patient identification system with a hardware device that requires a patient to physically touch a non-antimicrobial surface during use they are obligated to wipe the surface with a disinfectant or sanitizing cloth after each use to support hospital infection control procedures. This can add up to a significant cost in disposable sanitizing wipes, especially for hospitals that see a larger number of patients per year. Let's take a look at some conservative estimates on how much a hospital may spend on sanitizing wipes if they choose to use a biometric patient identification solution that requires physical patient contact: Number of patients seen per year: 350,000 Price per disinfecting wipe canister (75 count): $8.95 Average price per wipe: $.11 Total amount spent per year on disinfecting wipes: $38,000 Even if you factor in possible bulk purchasing discounts that hospitals are eligible for and reduce by half the average price per wipe to $.06, a medium sized hospital that sees an average of 350,000 patients per year can still spend up to $21,000 per year on sanitizing wipes. Contactless biometric hardware devices like iris biometrics for patient identification would alleviate any hygiene concerns and support hospital infection control initiatives. If you are a hospital or healthcare system investigating biometric patient identification systems, it's important to factor in whether they support hospital infection control initiatives as part of your due diligence.
https://www.rightpatient.com/wp-content/uploads/2012/12/Biometric-Patient-Identification-Technology-Should-Support-Hospital-Infection-Control-Standards.jpg
445
800
Shakib Rahman Khan
https://www.rightpatient.com/wp-content/uploads/2021/04/RightPatient-Logoup.png
Shakib Rahman Khan
2012-12-14 10:18:36
2022-08-26 10:10:10
Biometric Patient Identification Technology Should Support Hospital Infection Control Standards